SHORT SHORTS
Lace is one fabric in fashion that is always in, and constantly getting renovated creatively. Thus, the minute I saw lace shorts appearing on the runways and stores, I knew I had to get a pair. The layers of lace which are carefully crafted over the shorts of the same hue, makes this look just as interesting as it is subtle. For an elegant and feminine take on shorts, thats just as wearable during the day as it is at night, dress up your bottoms in some lace short shorts!
Lace shorts from Sway, Lush blouse, vintage Gucci handbag, Aldo earrings, mix of bracelets from F21 & Nordstrom
Celebrities in Lace Shorts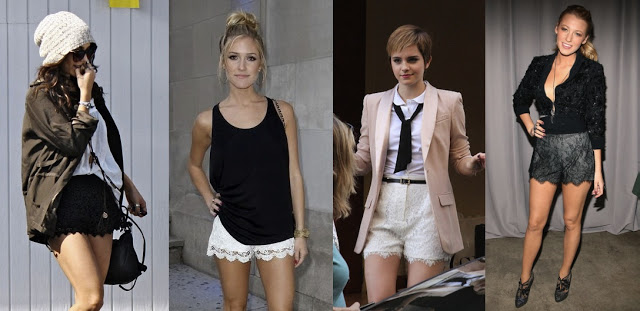 Progression of lace shorts from casual wear to formal wear.
1. Vanessa Hudgens, 2. Kristin Cavallari, 3. Emma Watson, 4. Blake Lively
Great Places to Shop Lace Shorts!