Model Bianca Balti for Cesare Paciotti Ad, Fall/Winter 08-09,
Leather pants have been and especially are now a staple piece in fashion. They're also seen everywhere on the runway shows from Balmain, Roberto Cavalli, Derek Lam and Isabel Marant. They're extremely fashion forward, provide an effortless high street allure look and can be worn in several ways to compliment different styles. Wear it with a utility jacket to pull off a utilitarian look, or with studs all over for a rocker chick look. You can even pair it with a simple, solid colored top for a minimalist look, or with a loose button up shirt (
tucked in
) for a professional look. Although leather pants can adjust to all these different styles, what I love most about leather pants is that it also has the flexibility of being day wear to night wear. Meaning YES, you can wear leather pants during the day for a casual look.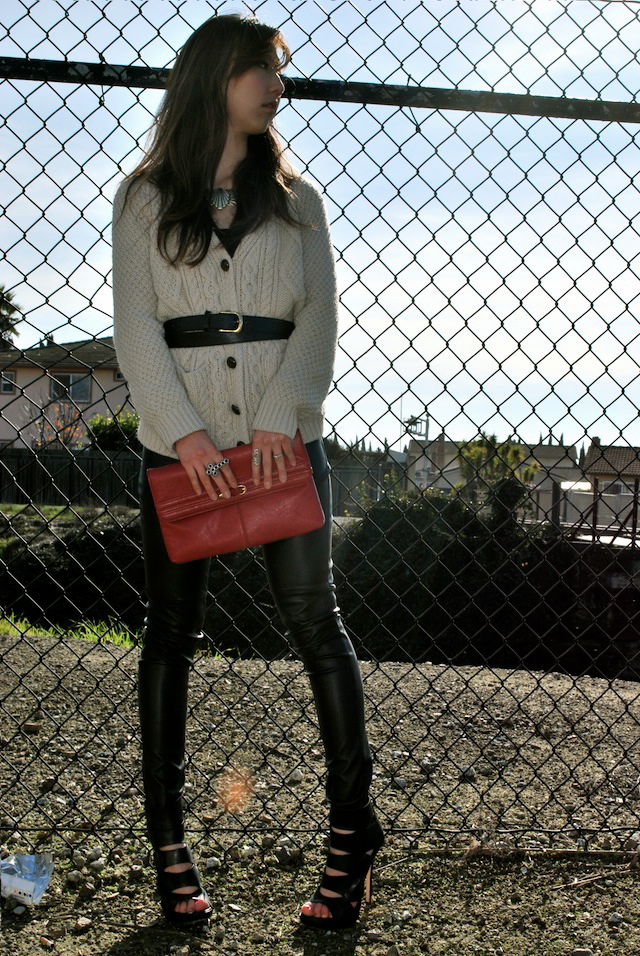 ME wearing Forever 21 Leather pants & belt, Aldo heels, Urban Outfitters sweater, Nordstrom BP necklace & thrifted red clutch
HOW TO WEAR LEATHER PANTS IN YOUR EVERYDAY LIFE
1. Fashion Forward Denim Substitute: When you think of leather pants, DON'T think of "leather pants". Think of it as substitute for denim but in a more fashion forward way. The surprising thing about leather pants is that it actually pairs well with many different types of clothes. Meaning yes, the outfit you're about to wear with denim, can be worn with leather pants instead. The reason? 1) they're black, everyone knows that black goes with EVERYTHING. 2) they're skinny, skinny denim also go well with everything. And 3) they're snug and stretch, contouring to your legs the same way denim do.
2) Pair it with a casual, comfortable top: The best way to wear leather pants effortlessly is mixing and matching it with casual pieces. Easiest way to do this is with a basic white shirt or a chunky knitted sweater (which is also very much a trend right now). I love mixing and matching different styles of clothing together because it keeps your look eclectic and looking new and fresh. It also creates an effortless appeal to it.
3) Avoid being too "matchy-matchy": Meaning avoid pairing your leather pants with a leather jacket. Doing too much of a certain style can over-intensify a look, creating a "trying to hard look". It usually also never looks aesthetically pleasing when you have too much of 1 style going on with an outfit. The exception? leather shoes. I actually love wearing leather heels, pumps or boots with leather pants, keeping it all leather from the waistline down, but casual comfort waistline up.
4) Accessorize: Pairing your leather pants with a simple tops and using accessories to "tell the story" can help avoid a matchy-matchy disaster. Accessories also come in a variety of styles too, so find one that compliments your personal style and pair it with your leather pants!
D Squared2 – Fall 09, leather pants paired with a cargo utility jacket creating a more casual look.
Hilary Duff wearing leather pants paired with a casual scarf, and black boots.
Victoria Beckham wearing leather pants, patent pumps and a simple casual jersey tank.
Blake Lively wearing leather pants, a basic white shirt & a grey boyfriend blazer for a casual but professional look.