Shopping for my wedding dress was one of my favorite parts of wedding planning. The experience of trying on gowns that are worth thousands of dollars with your closest friends is truly a unique experience. There is SO much I can cover about wedding dresses, but I'll make this a fun post about my personal experience shopping along with useful tips for when it's your turn! Also, if there is ANYTHING you want to know about wedding planning, let me know! I will cover it!
I visited 6 wedding dress stores in San Francisco: And Something Blue (unfortunately closed down), Lovely Bride, Marina Morrison, Loho Bride, Bridal Galleria, and Sarah Seven. It's good to go to a few stores since they carry different brands, offer different price points, and it's fun! I started shopping 11-months before my wedding date which is a good time to start.
The first store I visited was And Something Blue. I went with 3 bridesmaids and unexpectedly found a dress I liked. I knew I liked it the moment I saw myself in the mirror and thought, "holy sh*t, I'm getting married". I am not a crier but I had a quick moment to myself when the drapes were closed and my eyes started getting watery. My watery eyes immediately vanished when the drapes opened and I saw my 3 bridesmaids standing in front of me (I do not like crying in front of people and am a very ugly crier haha). They all loved the dress. Since this was the FIRST store I visited, I felt like I owed it to myself to keep shopping just to make sure.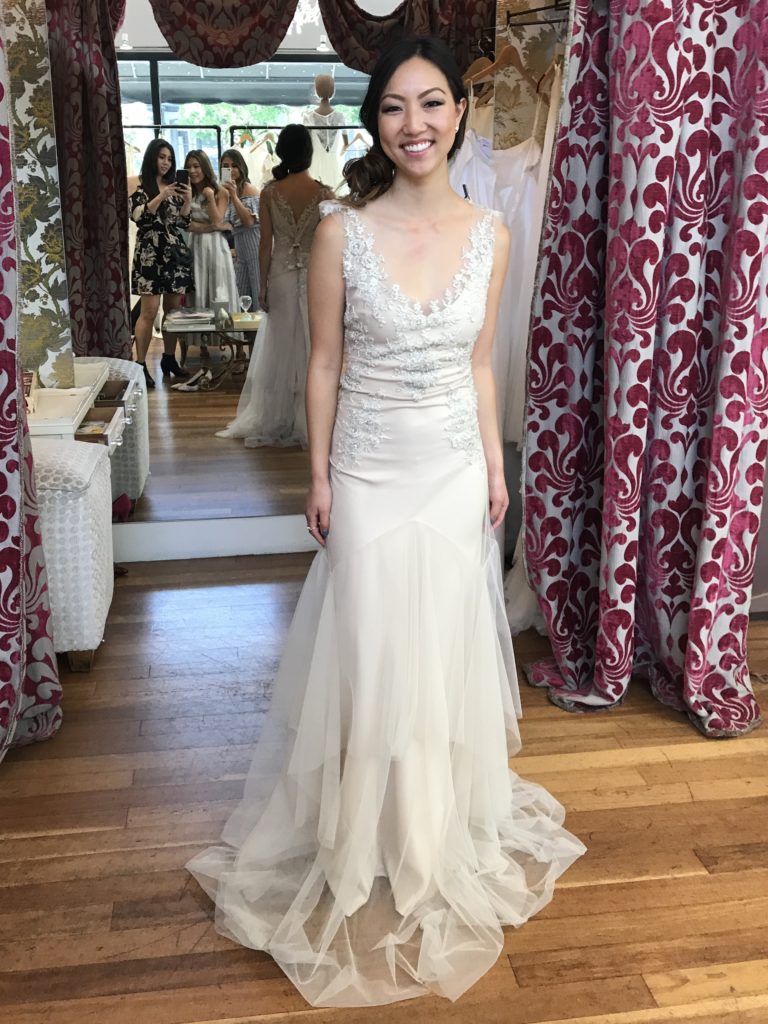 The 2nd time I went wedding dress shopping was with my mom. I loved going with my mom but she wasn't super helpful since she didn't like anything or thought everything was too expensive. My mom wanted me to wear a pure white, traditional wedding dress and I am not a traditional lady. I kept gravitating towards dresses with embellishments, beading or tiered skirts. For some reason, these dresses all looked heavy on me. Then I will never forget what the sales lady said, "you should be wearing the dress, don't let the dress wear you". This is SO important. I realized that because I'm petite, all these dresses with crazy detailing were weighing me down. I tried on more dresses with embellishments and they all had the same overpowering effect. I then realized it was also unrealistic to wear something heavy that I would sweat and feel uncomfortable in, especially in Joshua Tree.
Wedding dress shopping is a process of elimination. I stopped looking at dresses with crazy embellishments since it wasn't flattering on me. Eliminating this style was reliving since I knew what NOT to look at moving forward. What I initially wanted ended up looking horrible on me! It's true what they say, you usually don't end up getting the dress you think you want.
It was my dream to wear a designer wedding dress like Monique Lhuillier so I went to two high-end bridal stores that carried designer dresses (prices ranged from $6-12K). It was fun trying these on since I felt like a runway model but I didn't love any of them. They felt too extravagant for the desert and I couldn't justify spending $6K+ on a wedding dress. Plus there's tax and alterations which cost an additional ~$500. Although it was a dream to wear a designer wedding dress, I realized the brand isn't as important. What's more important is the style, fit, and how comfortable you feel in it.
During my wedding dress hunt, And Something Blue called to tell me their store was closing. This was the first store I went to that had the Sarah Janks dress I loved and they were willing to sell it for 50% off! I felt so much pressure since I had to make a decision that same day but took it as a sign since it was the only dress I liked so far. I drove there after work and bought it on the spot. I got a $3,400 wedding dress for only $1,700! (I say only because $1,700 is affordable for a wedding dress).
I remember leaving the store feeling accomplished but antsy. It was not how I imagined myself to buy my wedding dress and my mom had reservations about it. She said if it's your first time getting married your dress is supposed to be white and the beige color symbolized a second marriage. It wasn't a big deal since my mom is chill, but I didn't feel satisfied knowing my mom didn't love my dress.
One of my bridesmaids Kim never got to go wedding dress shopping with me. Since I wanted to share this experience with her I decided to go one last time just to entertain her. My friend recommended Sarah Seven so that's where we went. This is when I found the dress I loved. I felt crazy for liking another dress right after I bought one and this dress was NOTHING like anything I tried on. It was super sleek, simple and had no lace, beading, or anything. I was wearing the dress and the dress fit my frame so well. What sealed the deal was when I kept thinking about this dress after I left. I went back to the store with my mom and it was the ONLY wedding dress she actually liked too. She loved how pure and clean it was (yes, she actually said it made me look pure haha). I asked to try on a cathedral length veil, looked in the mirror and thought to myself "Josh is going to love me in this dress". That was when I knew, I had to get this dress too.
I wore my white Sarah Seven dress to the ceremony and changed into my ivory Sarah Janks dress during the reception (also, coincidental that both my wedding dresses were designed by a Sarah). It worked out perfectly and I loved wearing both!
Also, I'm selling both my wedding dresses! If you're interested and a size 0-2 DM me on Instagram @trendenvy or message me on preownedweddingdresses.com where my dress is listed! Thanks for reading and I hope you enjoyed my personal journey on finding the perfect wedding dress.