When Josh and I came up with the concept to shoot at the Imperial Sand Dunes most people's reactions were "wow, you guys really love the desert", and yes, we really do. Josh found the location through a photo on Instagram and after doing research I fell in love with the idea. We realized it would take dedication and effort to actually shoot photos at the sand dunes. For starters, it's not near an airport and is basically near the border of Mexico. We've also never been there, nor our photographer Sally Pinera. We explored other options and Sally suggested other beautiful locations like the Santa Barbara historical museum but I realized it wasn't us. I knew if we didn't shoot at the sand dunes we'd regret it, so we made it happen. Here's how along with some tips on how you too can have an epic photoshoot wherever you want. 
Scout the location and research: We did a lot of research before committing to shoot here. We researched the weather, read through travel websites for insider tips, and studied the map and its surrounding area to see how realistic it'd be to travel here. The closest airport to Imperial Sand Dunes is San Diego. From San Diego, the dunes is a 2.5-3 hour drive east and once you get there there's not much civilization. We also read that a lot of people go to the dunes for ATV and off-roading which creates tire tracks all over the sand and can be dangerous. The area north of Highway 78 (officially North Algodones Dunes Wilderness Areas) though is off limits to off-roading. Knowing this, Josh and I went to the dunes early to drive around and scout safe and beautiful photo locations. 
Parking at the Sand Dunes: We learned that although the area is massive, parking is very limited.Since it was all of our first times at the sand dunes and there's poor reception there Josh pinpointed an exact location on where to meet, the parking lot. You can either park at Cahuilla Ranger Station and walk 10-15 minutes across Highway 78 for some great dunes or park at Hugh T Osborne Lookout Park (where we parked). Hugh T Osborne Lookout Park was convenient since the tall dunes surrounded the parking lot and we didn't have to walk far. The downside though is that because this area is more popular, the sand has a lot of footprints. If we were up to the challenge, a great option would have been to walk down the hill across Highway 78 for more uninterrupted sands and clean views. Another popular area with a parking lot is the Buttercup Dunes, closer to the border and just south of Highway 8.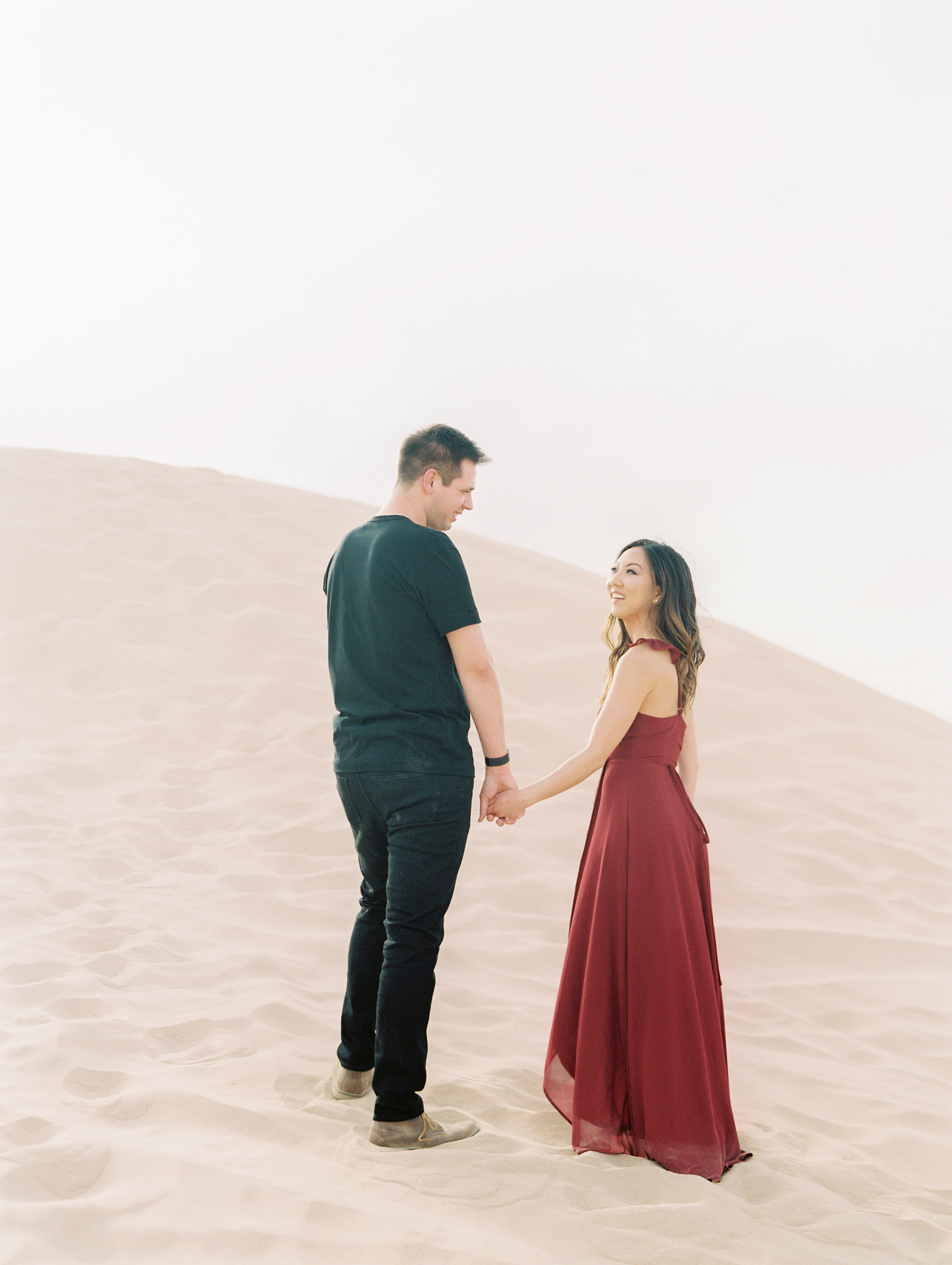 Create a Pinterest board and share your vision with your photographer: When creating a Pinterest board it's easy to go overboard but I recommend only pinning photos that accurately reflect your vision. This will help make your vision clear and not overwhelm the photographer. On our Pinterest board were photos of our outfits (like the dresses I bought), other photos taken at the dunes, couple poses, and colored smoke bombs. I also knew I wanted to wear white in 1 photo and burgundy in the other. White because it's classic bridal and burgundy because it'd contrast well with the desert landscape. I showed our photographer the dresses and she suggested that Josh wears white with my white dress and black with my burgundy dress. One tip she provided was to keep our outfits simple so that the focus is on us.
Get creative and plan your execution: It was important to me to have colored smoke bombs in the photos (purchased on Amazon here). It was a vision I had and one that I knew would photograph beautifully in the desert and reflect us as a couple. Fun, creative, and always up for an adventure. Josh realized we couldn't bring smoke bombs on the plane (not even in a checked-in bag), so I called the hotel to ask if we can get a package shipped there. I purchased the smoke bombs online, got them shipped to the hotel and confirmed with the hotel when they got delivered. The package was ready for us when we checked-in. We also decided to use the smoke bombs with our white outfits so the colors would pop. We saved these for the end of the photoshoot knowing that the smoke bombs might stain our clothes.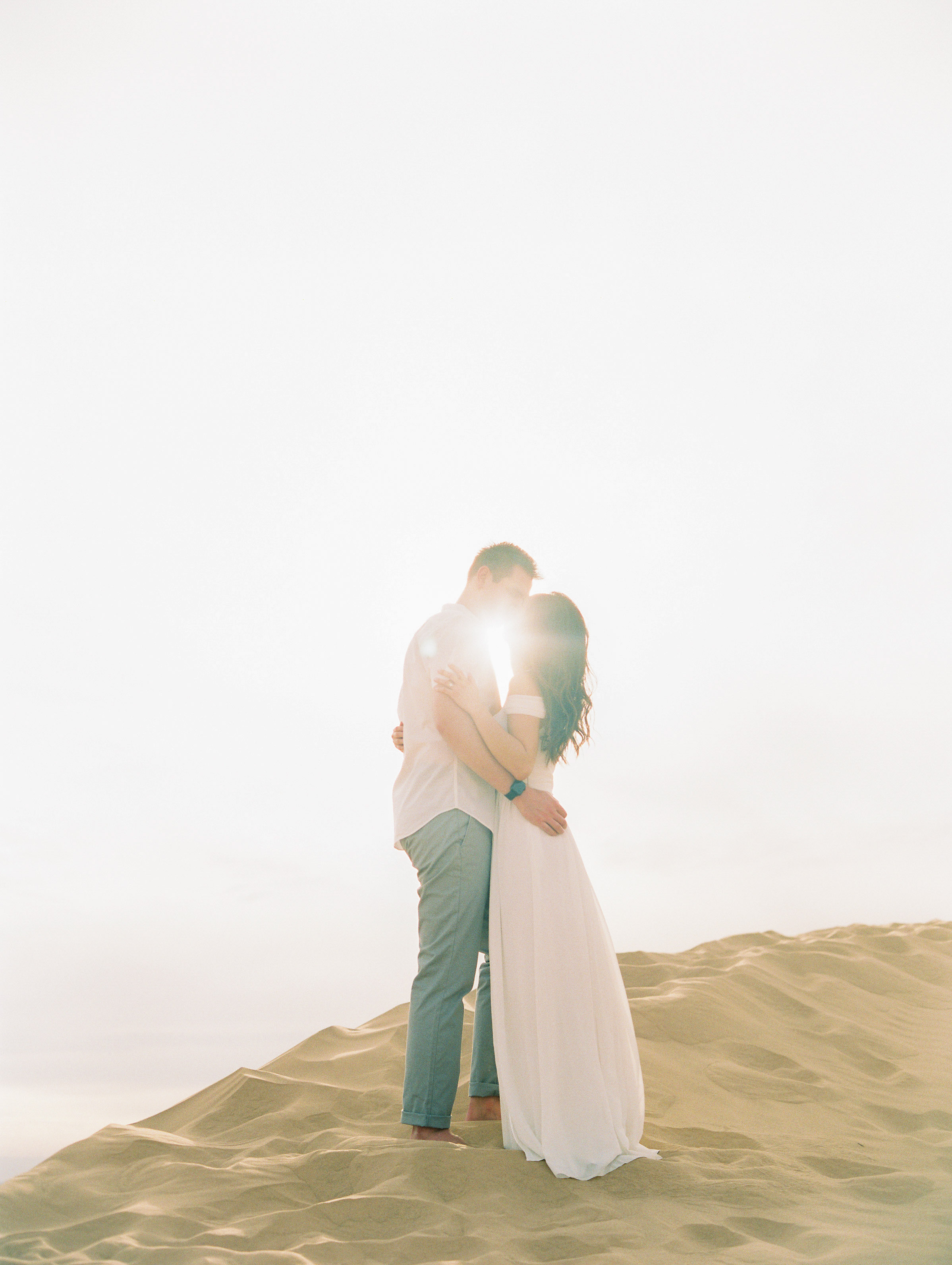 Take photos during sunrise or sunset: this is kind of a given, but it is so important to take photos during sunset or sunrise if you want the perfect lighting and that sunkissed skin. For the sand dunes, sunset set at 5PM so we planned to meet at 3:30PM which gave us enough time to get ready, scout, and take photos. The great thing about sunset is that this is also when the temperature is the most comfortable. We intentionally chose to take our photos during March too knowing the temperature would be ideal.
For those that wonder what it is about the desert that I love, I love how still it is and how it reminds you that although we all live busy lives, to appreciate the stillness around you and to be present with each other. It's a place with no distractions and gives you the opportunity to think and be creative, all within a beautiful and constant landscape.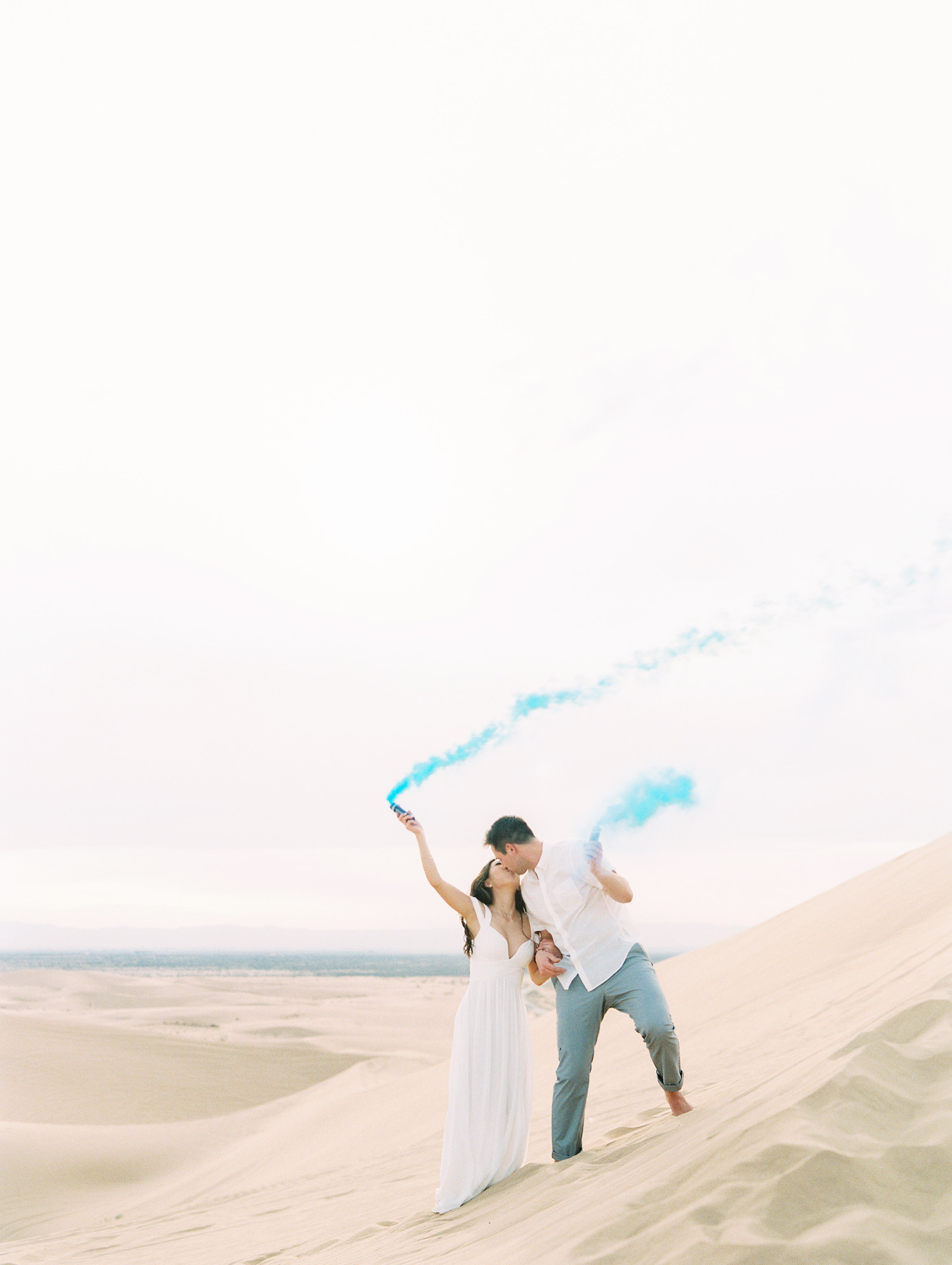 Overall, this experience felt like a dream. I got pre-wedding jitters this day and was anxious but also in pure bliss. It also made me fall more in love with Josh because it reminded me of how good of a team we are. I knew it wasn't easy to shoot here, it'd require effort, work, money, time, etc. but we made it happen. I knew I wouldn't have been able to do this or execute it as well with anyone else but Josh. I love how we always support each other, are on the same page about everything and feed off each other's ideas to make anything we want a reality. We were so excited and having so much fun during the photo shoot that it helped make posing together comfortable too. Whenever you plan any photo shoot, it's important to take a step back and ask yourself why you're doing it and whats important. The photoshoot was a reflection of me and Josh as a couple and a passion-filled adventure for us. If you're planning your engagement photo shoot just remember at the end of the day it's all about you and your significant other and everything else is just a plus. 
Thank you to my wonderful fiance Josh Pyles for being the best teammate ever, and our talented photographer Sally Pinera for making our dream engagement photo shoot a reality.