I've always been interested in skincare but didn't start investing and doing more research on skincare until about 3 years ago. Since I have sensitive skin, it's been a struggle to find products that are gentle yet effective. There are also SO many products out there that it can get overwhelming. Yet, once I found my go-to products I started noticing a significant change in my skin and mood. There's nothing that feels better than having clear, fresh skin.
I'll admit, one thing that's nice about being an influencer is that we constantly get to try new products for free since brands look to us for honest opinions. I've tried and tested a BUNCH of products and would never recommend anything I've never tried before or that I love. It took a lot of testing, comparing, and time for me to figure out what the best skin care products were (that I've tried so far). So here are my favorite skincare products, especially for people with sensitive skin like me. I also provided helpful information to determine if these products are right for you too.
My go-to makeup removing cleansers:
DHC Olive Concentrated Cleansing Oil: $30 on Amazon Prime

Why I love it: it's a cleansing oil that completely gets your makeup off (including waterproof) without stripping away your skin's moisture. Squeeze 2-pumps onto dry, clean hands and rub it all over your dry face.
Great for: combination, sensitive, or dry skin. Removing stubborn eye-makeup.
Not great for: if you have eyelash extensions since it's oil-based. Not good for traveling since oil easily leaks.

Farmacy Green Clean Makeup Removing Cleansing Balm: $34

Why I love it: it's a dry cleansing balm that literally melts away and removes all your makeup. When you rub it onto your dry face it turns into a silky oil. It also has a light, aromatic fragrance to it.
Great for: sensitive and all other skin types since it's gentle. Also great for those who support clean beauty products. Great for traveling since it's dry and can't spill.
My go-to daily face cleansers:
Kate Somerville Exfolikate Daily Foaming Wash: $38

Why I love it: it's gentle enough to use every day and has very light exfoliating beads. The cleanser foams up which makes your face feel really clean. I always use this at night after my makeup removing cleanser.
Not great for: removing makeup (even though it says so). When I use this alone, I still have makeup residue on my face which is why I use this as a 2nd step after a makeup removing oil or balm.
Great for: all skin types. Everyday use.

Aesop Purifying Facial Cream Cleanser: $39

Why I love it: I use this cleanser in the morning since it feels like lotion and doesn't irritate or dry out your skin. I don't like using anything too harsh in the morning since your face is technically still clean (assuming you washed it the night before). It's a great mild cleanser that makes your skin immediately feel pampered and soft.
Great for: sensitive, dry, or combination skin. Everyday use. Frequent travelers.
My go-to face toners:
Caudalie Beauty Elixer Toning Mist: $49

Why I love it: I personally prefer spray toners since it's easier to use, more refreshing, and less wasteful since you don't need cotton pads. I love this one since it helps tighten pores and can be used before, during, or after makeup. I use this as my morning toner.
Great for: sensitive and all skin types. For traveling since it's available in 2-sizes. A quick refresh throughout the day.

Clinique Clarifying Lotion 2: $16 or $25 depending on size

Why I love it: A great everyday toner that's gentle but effective enough for everyday use. It also helps remove grime, flakes, and dead skin cells to promote clear skin. I have no idea why it's called "lotion" since it's technically not a lotion so don't be fooled by the name. Also a great price point. I use this as my night toner.
Great for: sensitive, dry, and combination skin. Those looking for a toner that does it all (cleans, sweeps, tones, moisturizes, refreshes).

DHC Super Collagen Mist: $20

Why I love it: It's an ultra-fine mist with collagen-derived peptides to keep your skin refreshed, hydrated and bright. It also has skin-firming benefits. This technically isn't a "toner" but I love using this instead of toner when I want a refreshing but moisturizing pick me up.
Great for: sensitive and all skin types. A quick refresh throughout the day or to help set makeup.
My go-to face serums:
Savor Beauty pumpkin seed renew serum: $64

Why I love it: Savor Beauty is a Korean beauty skincare line that only uses natural and organic ingredients. It's very hydrating and brightens up your face while reducing hyperpigmentation. I love using this as a morning or night serum when my face feels dull.
Great for: sensitive or dry skin. Those who want to brighten up their skin using vegan and natural ingredients. Traveling since the bottle is small (only 1 oz.)

DHC super collagen supreme face serum: $28

Why I love it: It's very liquidy so works well and fast. It's also more weightless and less sticky compared to other serums making it a good option for those who don't want the added moisture. I like using this in the morning.
Great for: those looking for a weightless everyday serum.

Aesop parsley seed anti-oxidant serum: $73

Why I love it: it's an aloe vera-based moisturizing serum with antioxidant ingredients to hydrate, soften and fortify your skin. This serum is very hydrating and thick. I use this at night and love how it makes my skin feel quenched and plump.
Great for: sensitive, dry, or combination skin. Those looking for a hydrating face serum.
My go-to face lotions: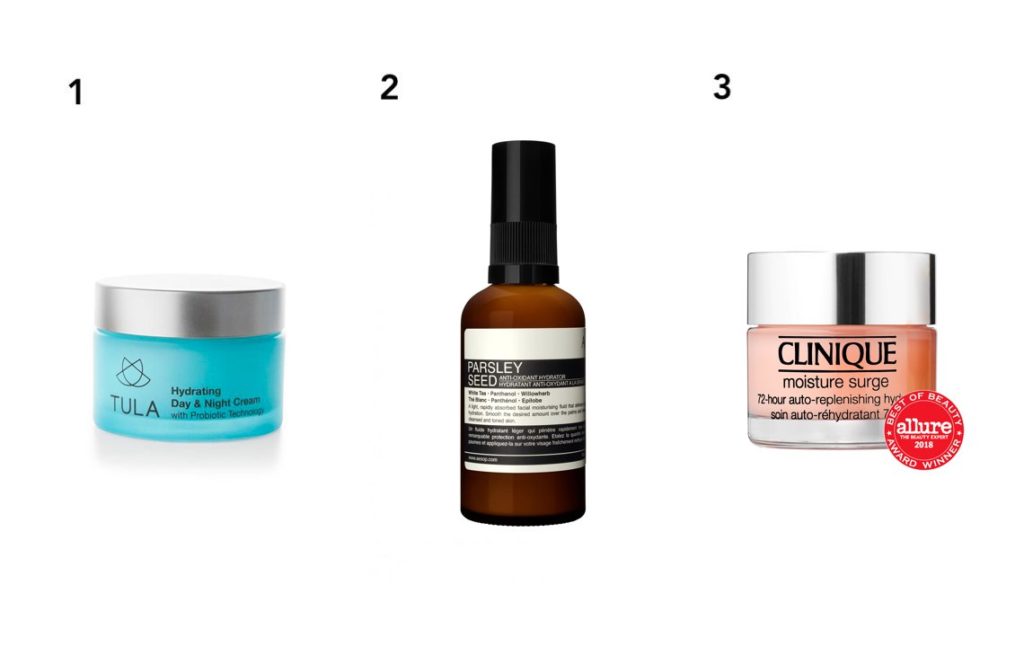 Tula hydrating day + night cream: $52

Why I love it: it's a lightweight moisturizer with probiotics that instantly hydrates while helping prevent lines and wrinkles. It also promotes skin renewal and collagen synthesis. It instantly makes your skin feel soft and glowy. I like using this face lotion when my skin is feeling more sensitive than usual since it's very gentle.
Great for: sensitive and all skin types. An everyday lightweight moisturizer.

Aesop Parsley Seed Anti-Oxidant Hydrator Fluid Moisturizer: $70

Why I love it: it smells phenomenal (like a spa) and I love how rich and hydrating it is. It makes your skin feel a bit sticky since it gets absorbed deep into your skin making it a long-lasting face lotion. I usually use this at night or during the fall/winter when the air is drier and colder.
Great for: sensitive, normal, or dry skin. Those looking for an intense, hydrating moisturizer and don't mind the feeling of sticky skin.

Clinique Moisture Surge 72-hour Auto-Replenishing Hydrator: $39

Why I love it: this was and is my go-to face lotion for as long as I can remember. I love the way it feels (like a gel) and it has aloe water in it to keep your skin hydrated and feeling cool. It instantly plumps your face to give you a dewy and healthy-looking glow. It's also a great price-point.
Great for: sensitive and all skin types. Those looking for easy, everyday face lotion.
I hope this helps you on your quest to healthy, clear, and radiant looking skin! 🙂