RUFFLES + FLORAL = A FEMININE TWIST OF LOVE & SPRING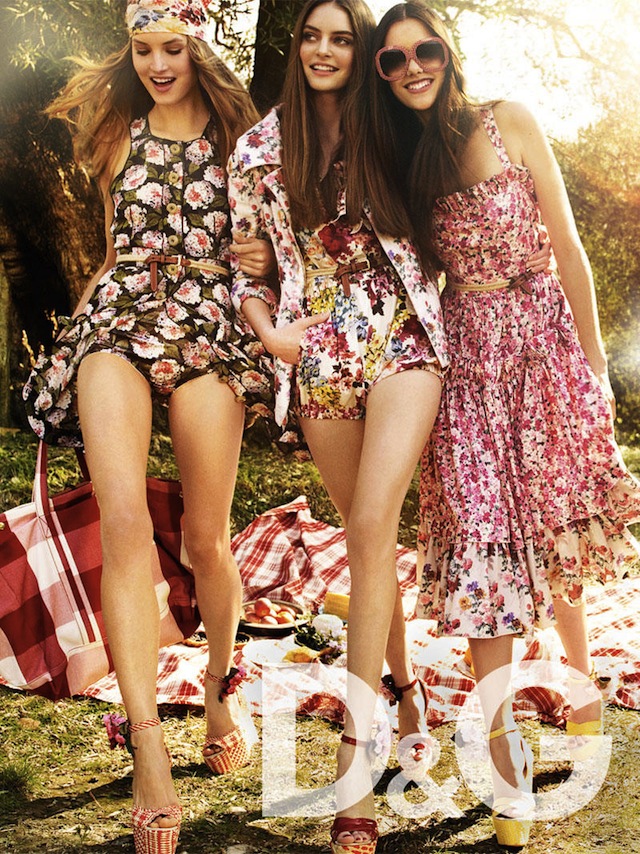 DOLCE AND GABBANA ad campaign for Spring/Summer 2011. Photographed by Mario Testino.
 There's no better way to prepare for the flirtiest season of the year then by dousing yourself in floral and ruffles. The bright and pretty color combinations of the floral help produce a cheery vibe, while the ruffles add delicacy and femininity. With spring just looming around the corner, why not start the season off right, with a joyful attitude in colorful floral apparel!
ME wearing TopShop floral dress, F21 necklace, knee high socks and faux fur vest, bangles from World Market and Target heels.
FLIRTY WAYS TO WEAR FLORAL:
1. Feminine shoes feet: Keep it feminine and appealing by wearing lady-like footwear that compliment your outfit. Strive away from pairing your floral apparel with sneakers, and instead choose flats, heels, or appropriate boots. If going for a more refined look, find foot wear in lighter shades such as white, tan or in a light color thats represented on your floral apparel. Whatever you do, do NOT wear footwear in a bright, bold color. This can create create a tacky appearance, and you want the focal point of your outfit to be the floral, not your hot pink heels.
2. Use minimal accessories to enhance the look: Accessories are an outfits best friend, and in this case use them to your advantage, but use them appropriately. Because many floral dresses often flare out below the waistline, using a belt to help cinch the waist can help define your figure. Using jewelry such as a pendant necklace, (in my case), or simple earrings such as flower studs or gold hoop's can help accentuate the flirty and feminine look. And word of advice: gold always pairs best with floral.
3. Cardigans: The easiest jacket to pair with a floral apparel is a cardigan. It's lightweight, easy, complimentary, feminine and polished. If going for that girly look, you can never go wrong with a cardigan. Yet depending on your personal style, there are tons of other jackets that look good with floral. I personally like wearing my denim cropped jacket with floral because the denim adds a more casual, street-wear appeal to the outfit. Whatever you do, make it your own and have fun in this girly trend!
Leighton Meester in an Alice & Olivia floral dress with ruffles across the neckline.
Natalie Portman in a Rodarte floral dress, all-over ruffles and Christian Dior heels.