Josh and I traveled all around Italy from 9/20-10/6 to celebrate our 1-year wedding anniversary. It was our first time there so we had an action-packed schedule and traveled through 9 cities to get a full taste of Italy. The weather was perfect, outside of the random 15-minute thunderstorms we experienced in Rome. If you're thinking about going to Italy I recommend going around the same time or even later for comfortable warm weather and to avoid tourists.
Italy was an amazing trip and I appreciated all of the cities we visited for different reasons. I also understand why everyone loves traveling to Italy. From architecture, food, fashion, culture, religion, and history there's something for everyone. Below are highlights of the cities we visited and what I thought about each one. If you plan on traveling to Italy hopefully this will help you decide if a city is worth visiting or not!
Duomo di Milano Cathedral in Milan, Italy
We unexpectedly flew into Milan during Milan Fashion Week and I loved it! If there was a city I had to live in Italy it would be Milan. I was constantly inspired by all the street fashion and felt like Milan had the comforts of an urban city while being clean and not too touristy. I felt comfortable here and loved the bold, laid-back, high-end sense of fashion the locals had. The shopping was also amazing. I recommend visiting Milan to get inspired by street fashion and to shop till you drop, specifically for designer pieces like Gucci or Prada.
Basilica di San Petronio in Bologna, Italy
If you're a foodie, particularly a pasta foodie you HAVE to visit Bologna. Bologna unexpectedly turned out to be my favorite city (after Milan) since it had a diverse sense of community, culture, architecture and amazing food. It felt more local, hip and safe compared to other cities we visited. Bologna is where a lot of classic pasta dishes are made such as lasagna verde, tagliatelle, and tortellini. We took a pasta-making class here and it was the highlight of my trip. Most of my best meals were eaten here including tortellini in brodo which is an absolute must-have in Bologna!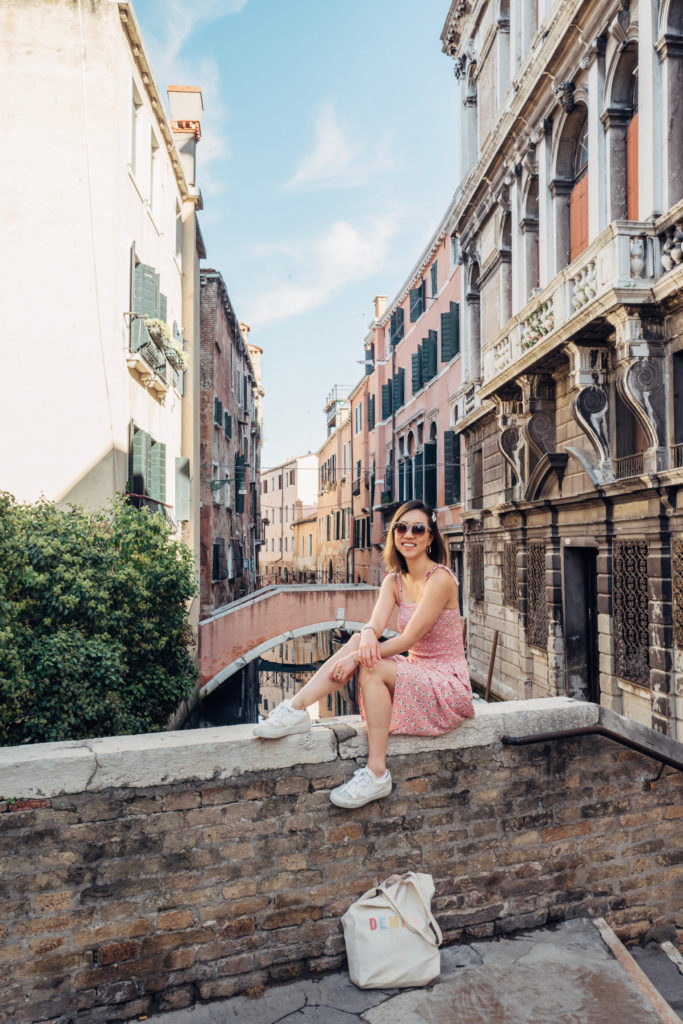 Venice, Italy
I surprisingly did not like Venice that much although it's a magical city that I recommend everyone visiting once in their life. Venice was found in 421 AD after the fall of the Roman Empire so the history is enchanting and you really get a sense of how old and unique Venice is. I particularly loved Doge's Palace and walking across all the bridges and canals. I didn't like how touristy Venice was since the crowds took away from the charm of the city. I personally would not go back to Venice unless I was traveling with someone who has never been and really wanted to visit.
Roman Colosseum in Rome, Italy
Rome is one of the oldest cities in Europe dating back to 753 BC. I appreciated the history of Rome and felt like I learned so much about mythology, religion, and the way ancient Greeks lived by visiting Rome. My favorite sites here were the Roman Forum followed by the Vatican Museum. I heard how important it is to wear comfortable shoes in Rome and I can attest to that. Although I had comfortable shoes on my feet were aching from walking ~10 miles/day on uneven cobblestones. Rome is definitely a city worth checking out since the history is incomparable but I found Rome to be too touristy and was often annoyed from crowds, locals trying to scam you, and aching feet.
Villa Magia resort in Positano, Amalfi Coast
Wow, I fell in love with Positano the minute we got here. It felt like I was in a beautiful postcard and I loved how quaint, thematic and romantic the city was. I highly recommend visiting (especially if you're on a romantic trip) and taking a boat ride to Capri Island and swimming through the blue caves. It was one of my Italy highlights. Positano was a nice break from hectic city life and since it's small you can easily walk around everywhere. Visit Positano if you want a romantic getaway with some peace and quiet.
Piazza del Campo in Siena, Italy
We visited Siena via a wine tasting tour and loved it. Although our tour didn't come with a guide the city was so beautiful and compact that it was easy to walk around and explore on our own. I loved how Siena was further out, calmer, and appreciated all the medieval architecture. I recommend visiting the region of Tuscany if you want to go wine tasting and somewhere less crowded.
Giotto's Campanile in Florence, Italy
Florence is most people's favorite city in Italy and I see why. There's so much to do and the city is beautiful. Walking along Ponte Vecchio during sunset was stunning and the cathedrals here are ornate and breathtaking. Florence is also known for great leather craftsmanship so you can get great deals on leather jackets, bags, belts, gloves etc. The city felt alive and safe since there were always people walking around. If I had to study abroad, I definitely would have done it in Florence. It's a fun, vibrant city with great history, food, shopping, and sights.
Bellagio, Lake Como
I heard great things about Lake Como so we decided to take a day trip via this tour from Milan. Although we only spent one day here, I would in a heartbeat come back to Lake Como during the summer to lounge and frolic. It felt very relaxing and the villas and mansions along the shore look like something you'd see in a movie. I loved the landscape, how fresh the air was, and it reminded me a lot of New Zealand. If you want to escape to nature I highly recommend adding Lake Como to your list and staying a night or two here.