SHEER FOR SUMMER
Lily Donaldson for MONSOON Spring/Summer 2011
 Crochet was prominent in the 1970's feeding off that hippie, festival era. Yet, with the recent return of the 70's trend, crochet is now back and hitting the runways like never before, making for a seriously demanding fashion statement. Being one of summer's hottest trends on the market, designers all over have learned how to remix and remaster the crochet trend. Anna Sui, goes playful mixing crochet with various native elements such as feathers and ruffles. While Proenza Schouler goes a little retro mixing crochet with contrasting neon colors. Either way, get a little experimental this summer and incorporate crochet into your own personal style!
Read this post on my San Francisco's:
Examiner.com
page!
FUN WAYS TO WEAR CROCHET:
1. Feather it up: This year feathers are huge, and luckily, feathers and crochet look seamlessly compatible together. Feather accessories also come in a variety of fun colors, and can really help liven up a crochet outfit, especially if the crochet is in a neutral color tone. My personal favorite colors to pair with crochet are teal or orange.
2. Dare to go bare underneath: When I think of great swimming cover-up pieces, a crochet dress automatically comes to mind. The difference between a grandma's crochet sweater dress (ick), and a sexy, current crochet look greatly depends on how you wear it. Using crochet as an overlay piece to something sexy underneath is a great way to spruce up this trend.
3. Keep it light-hearted: The hand-crafted nature of crochet along with the light color gives off a fresh, fun summer vibe appeal. Support this look by ensuring the rest of your outfit is light and paired with summer pieces. Pieces such as sandals, shorts, bandeaus and lightweight jackets work great.
spring/summer 2011 runway collection
1. PROENZA SCHOULER, 2. VERA WANG, 3. EMILIO PUCCI, 4. JULIEN MACDONALDS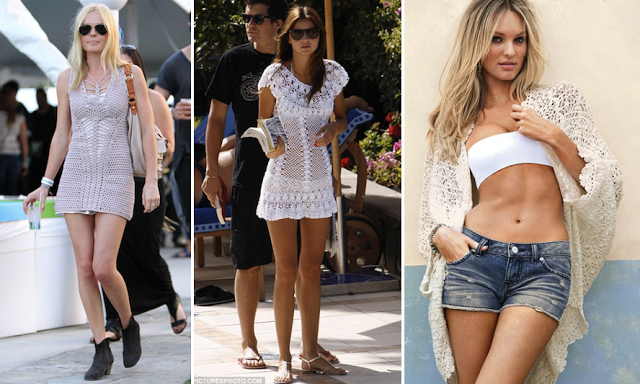 1. Kate Bosworth in a Top Shop Crochet Dress
2. Miranda Kerr in Anna Kosturova marilyn crochet dress
3. Model Candice Swanepoel for Victoria's Secret: crochet cardigan