ALLURE YOURSELF WITH A TURBAN
Model Katie Fogarty by Aitken Jolly for Wonderland magazine, Spring 2009
One of Spring 2011's hottest accessory item is the turban. But don't let the name fool you! This Arabian inspired headwear is surprisingly wearable and does just the trick to add that bold, mysterious touch to an outfit. Turbans first made their debut in fashion when Audrey Hepburn donned it in the 1954 classic, Sabrina. Since it's big comeback, many designers have been experimenting with different variations of the turban. Giorgio Armani's goes fierce in his spring 2011 runway show with accentuated turbans that cover the entirety of the head. Vena Cava, on the other hand, provides a much more minimalistic approach to the turban, making it appear more like a thick headband worn across the upper forehead. (a.k.a a turband). Regardless of its approach, this stylish trend is easy to wear, creates a unique fashion statement and exudes a sense of courage and allure.
Etsy.com turband, Nordstrom sweater, A&F denim cut-off's, Balenciaga handbag, Dolce Vita Pela wedges and me walking my beagle, Peaches! Love her to death!
HOW TO WEAR A TURBAN:
1) Play around with your favorite small silk scarf: If you're not ready to commit to a turban but want to test out the look, adopt the trend with a scarf! (a thin/light scarf) All you do is: fold the scarf horizontally to about 3″ thick, place it in the back of your head, bring it to the front, tie it, then twist the remaining ends and tuck it in! Voila! Easy way to see the turban trend on you!
2) Keep the top of your head flat: If wearing a turband like mine, place it on the upper forehead and make sure the top part of your hair lays flat. Sometimes a turband, especially a slippery one if made of silk, can get pushed up causing the top of your hair to form unintended volume. Turbans are essentially made to hug your head by being held tightly in place. To strive away from a contradictory look, aim to keep the top of your head flat.
3) Let the turban pop!: Allow the turban to pop and bulge out from your head to create a statement. An easy way to do this is by creating a knot in the center of the front. Also experiment! Choose fun, bold colors and fabrics (such as velvet). Choose some in a fun print and pattern (but please do pair it with a neutral outfit if so). Turbans are made to stir attention so let it do just that! Yet, if you're not so daring yet, choose black made of jersey cotton. Black goes with everything and the jersey cotton provides a casual look.
VENA CASA: Spring 2011 runway. Variations of the turban trend.
Model Nataliya Piro for Women's Direct. Dark green velvet turban.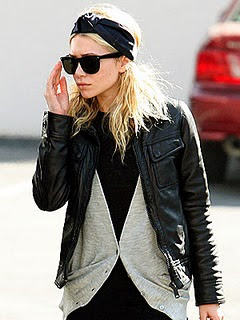 Mary Kate Olsen: black turband, worn above the forehead, knotted across the front.
Some of my favorite turban pieces:
1) Revolve Clothing: Lula Turban $77
2) Etsy: Gold Studded Turban $20
3) Karma Loop: Black Velvet Turband $38