How to mix vintage trends with current trends.
1 thing I love about vintage clothing is that it is truly unique and you can guarantee that no-one out there is wearing the same thing as you. Eliminate the fear of having a Shakira & Pink moment when they both wore the same Balmain studded dress to the VMA's.
Vintage finds are not only a great steal (because they're affordable especially if you thrift shop) they're also a great way to act on the sustainable movement! Be unique, pay less for designer, AND help the world be a little more green? Now that's what I call fashion to be praised for.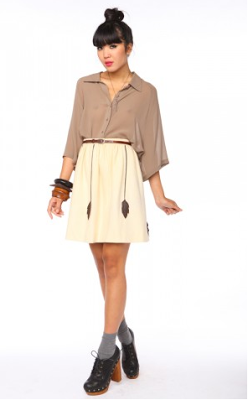 Nastygal.com : white vintage skirt, modern taupe button-up shirt and clogs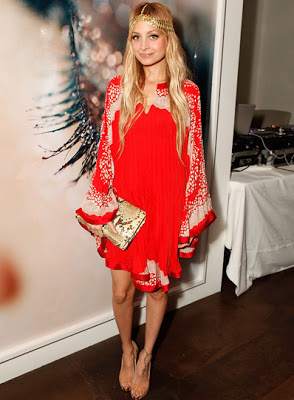 Nicole Richie: red vintage dress, modern snakeskin clutch and pumps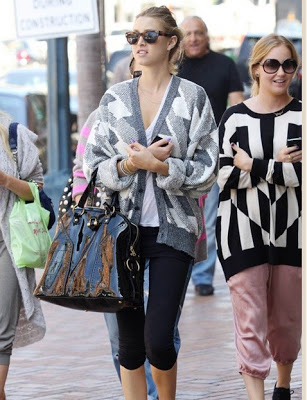 Whitney Port: vintage sunglasses and gray sweater, modern white-tee, leggings and handbag
EFFORTLESS WAYS TO PULL IT OFF:
1. Always mix up your vintage with modern basics: Avoid going ALL out vintage unless you really do want to look like you got blasted from the past. If wearing a vintage dress pair it with some super modern heels. Wearing a vintage sweater? Pair it with some current skinny jeans. Vintage pants? Go easy on the top, pair it with a modern basic v-neck tee. (& throw on a scarf while you're at it, to add up that "volume" ;).
2. Accessorize: My best vintage finds are ALWAYS accessories such as handbags, sunglasses, belts, and jewelry. Not only do they instantly add a unique touch to an outfit but its SO EASY to do! I find that vintage accessories is also a security buy because you know it won't ever get out of style. I mean if it did, you wouldn't have been able to get your hands on it today right? Vintage pieces that have made it through this far have obviously lasted for good reason, because they're TRENDY vintage pieces with attitude.
3. Make it your own: Don't be afraid to alter the vintage article of clothing. So you love the pattern on a long dress but you hate the long length. Cut it, sew it! Turn it into a short dress or even a tunic! Hate the sleeves of a vintage shirt? Roll it up! Be comfortable in what you wear and make it comfortable on you.
VINTAGE INSPIRATION:
1. Great places to shop vintage: Modcloth.com, Crossroads Trading Co, American Apparel, Nastygal.com, Urban Outfitters.com, Plato's Closet & of course your local thrift store.
2. Celebrities that wear and love vintage: Alexa Chung, Whitney Port, Rachel Bilson, Nicole Richie, Rachel Zoe and Mischa Barton.  (notice all these women have great style too?)