Femme Fair first launched in 2017 by 3 badass women, (Stacey De León, Christine Chinn & Melissa San Vicente) with the mission to empower, connect and bring creative females together while supporting a great cause. This year Femme Fair was full of panels by inspiring women, a keynote speaker and booths featuring 14 bloggers where you could literally shop their closets! It took place in San Francisco at The Archery, a space provided by Peerspace. I was honored to be part of Femme Fair this year and was one of the bloggers with a booth full of pre-loved clothes, accessories, and handbags. Everything about the event was good vibes only, inspirational and oh so insta-worthy. All proceeds from Femme Fair also went to Global Fund for Women, a local chapter in San Francisco. 
I received a lot of questions about the experience of being part of Femme Fair and to be honest, it was a lot of work but so worth it. Juggling work, wedding planning, blogging, and being part of Femme Fair took a toll on me and my sleep but hard work always pays off especially when it's something you're passionate about. So I wanted to share my personal story on being part of Femme Fair.
Prepping for Femme Fair
Prepping for FemmeFair was a lot of work but all the details paid off and it was so rewarding seeing everything come together. I've always been an overachiever and planning my Femme Fair booth made me realize this even more. For example, I custom made my own price tags and stickers. I purchased a stamp from Etsy that said, "pre-loved by Christine @trendenvy" and made my own black price tags and used a gold ink pad for the stamp. I even lined the edges of the tags with gold (like will anyone even care? probably not, but I did). I also made business cards and custom stickers with a TrendEnvy logo that Josh designed for me. It didn't stop there. I wanted my shop to be full and only have pieces that I would buy. After going through my closet and hand-selecting 98 pieces (that also fit within a color scheme) for my booth, I reached out to my most fashionable friends and asked if they had clothes they want to sell. I went over 4 girlfriend's homes and curated additional items making my inventory list 178 pieces. Yes, that's a lot of freeken clothes. I also had a vision for my booth and sourced specific furniture for it and took many trips to random places to get what I need. I was so tired from just planning my booth, I can't even imagine how much work it must have been for the 3 founders to put the entire Femme Fair event together.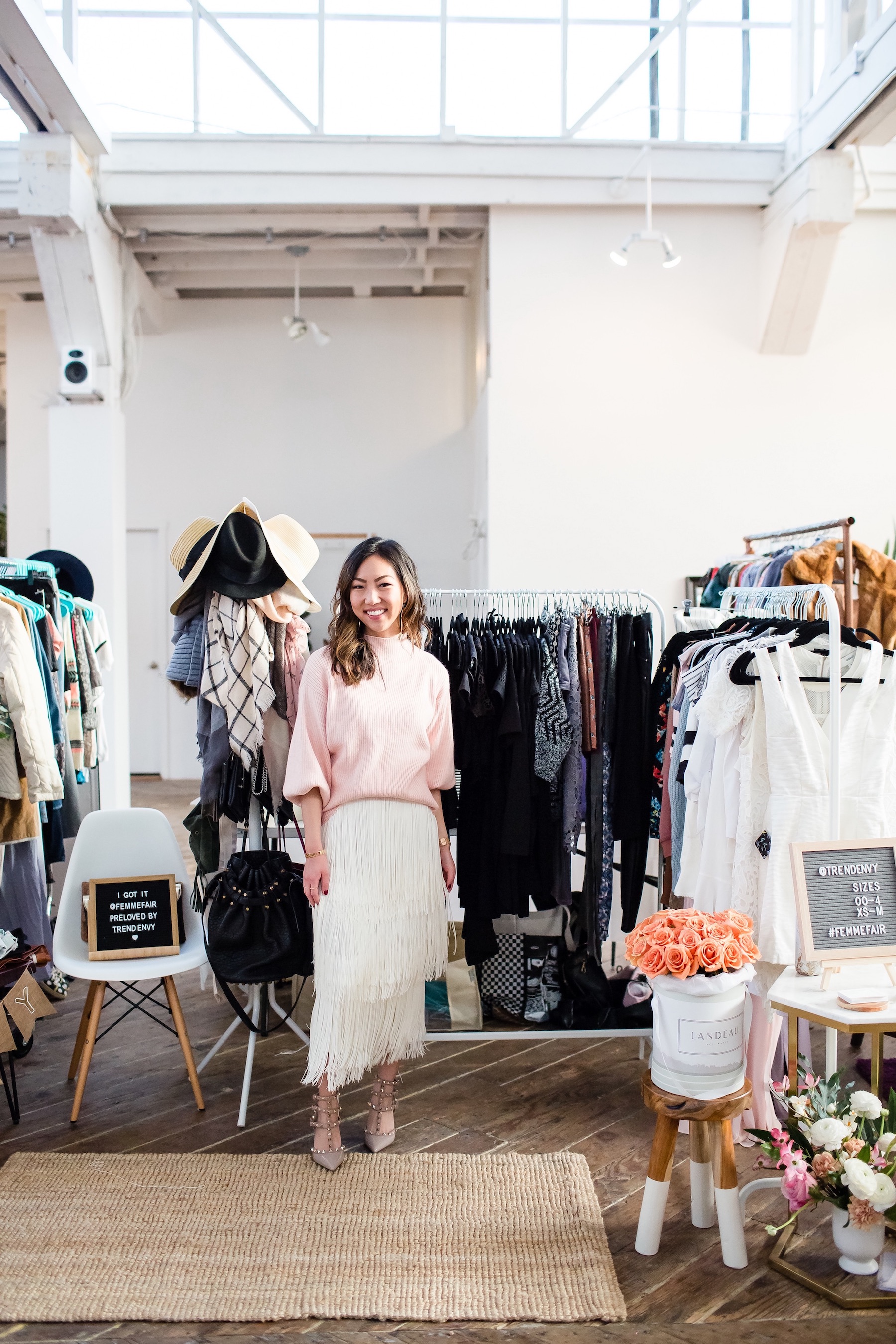 The Event
The day of the event I woke up at 5AM for last-minute touches and to get flowers from a local florist, April Baytan that I collaborated with. I am not a morning person so waking up this early (and looking cute) was rough, but thank goodness for coffee and concealer. I was ecstatic for the event to start and it was so nice being surrounded by go-getter females who were also excited. It was seriously a good vibes only crew, even at 7AM.
When the doors opened at 8AM I met so many positive women left and right. I was constantly talking while managing my booth and it was so rewarding seeing everything come to life. All the hard work put together by the Femme Fair team was worth it. The event looked amazing and being part of it felt even more amazing. It was a proud moment.
The panels were motivational and I loved how the speakers were diverse, not only in ethnicity but their background and passions. I'm a huge advocate for female empowerment and hearing them share personal experiences and pieces of wisdom was one of the biggest takeaways from Femme Fair. A quote that really resonated with me was, "you don't have to be great to start, but you need to start to be great". It felt amazing being part of a select group of women who decided to spend their Saturday morning to empower themselves. I loved the realness and positivity that shined from everyone there. We were all there because we wanted to be there, because we're passionate about what we're doing, and striving to do better for the world.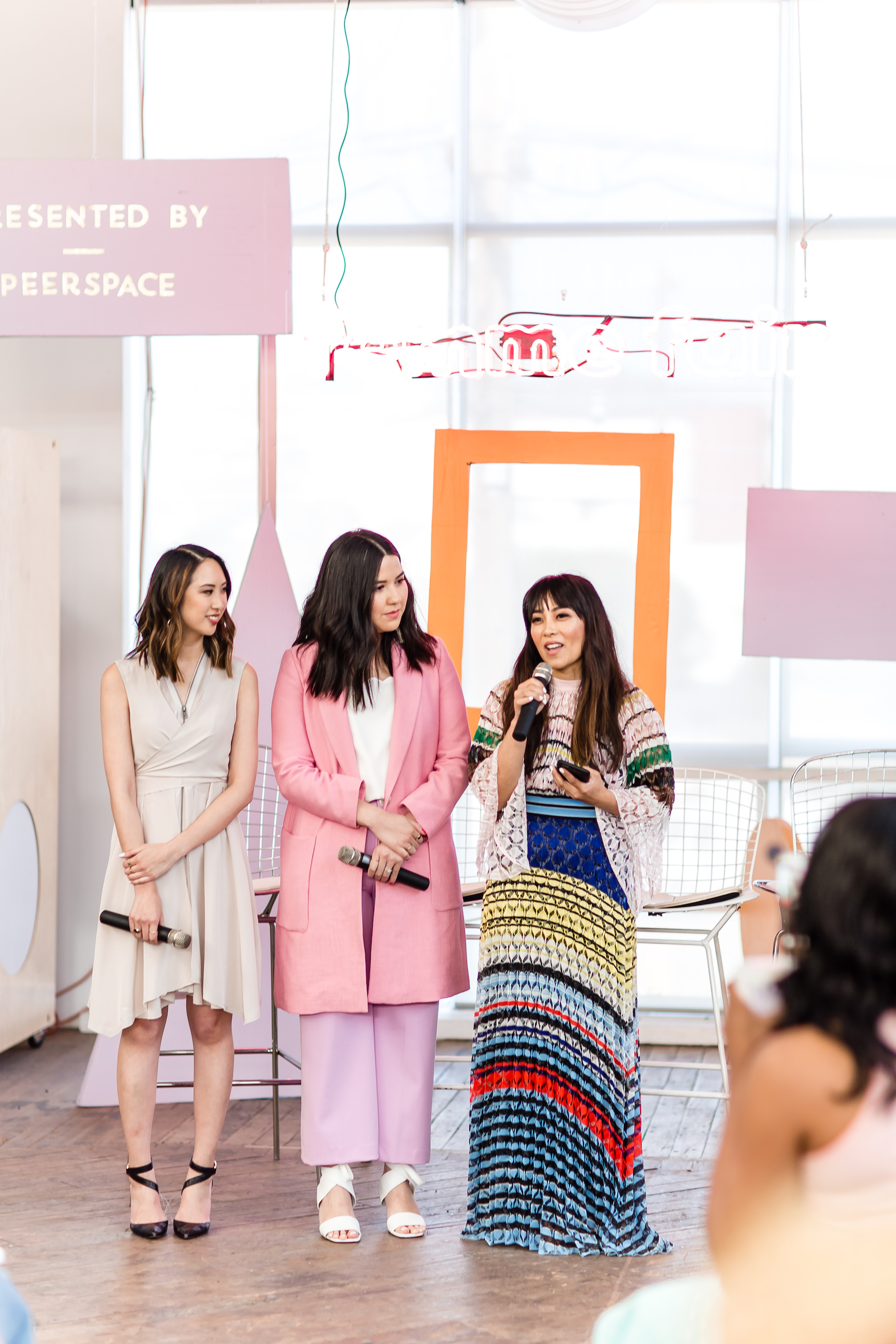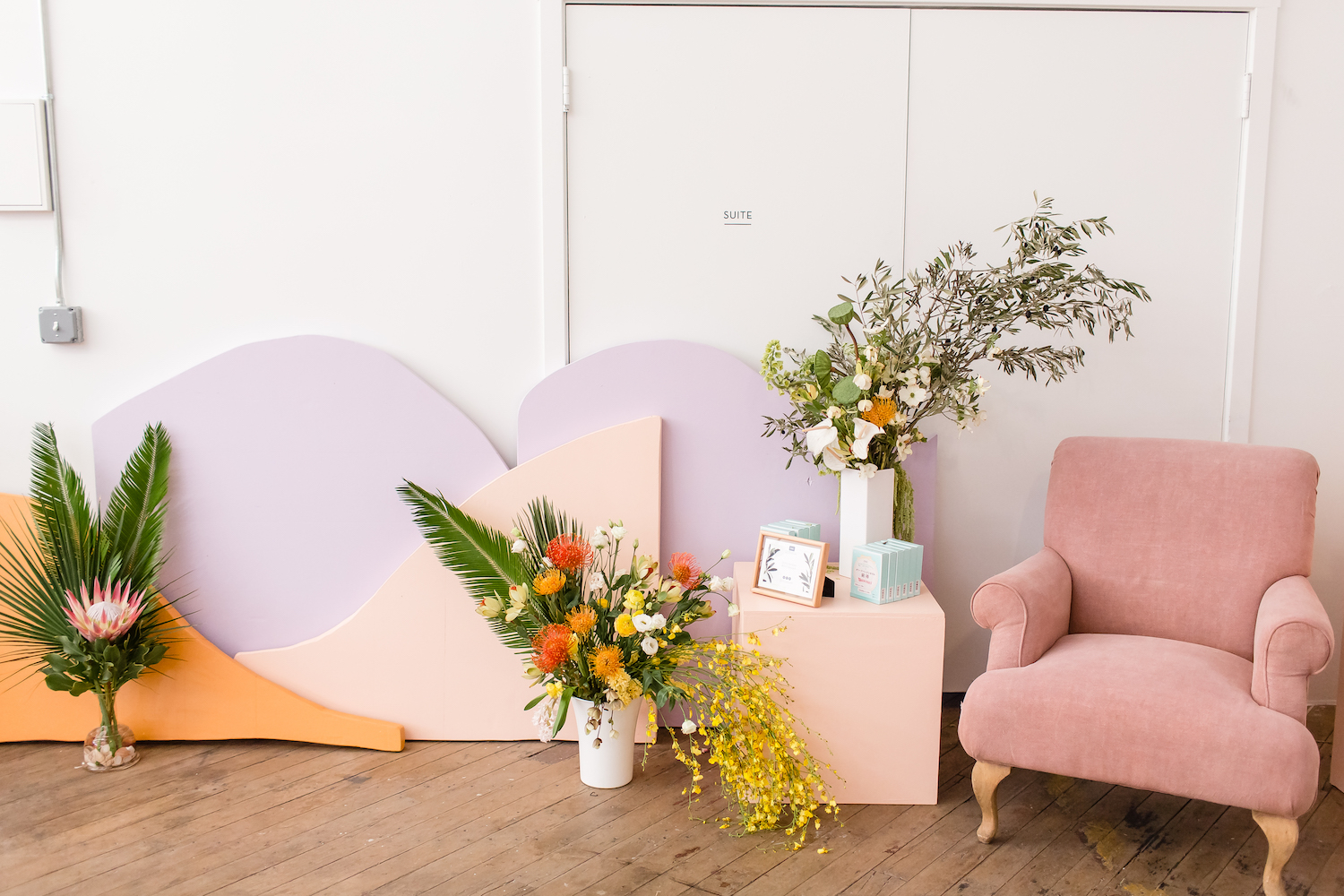 After the Event
The event ended at 5PM and I was exhausted. I asked Josh to bring me 4 garbage bags and I legit stuffed everything in bags then crammed everything in my car. After unloading my car and dumping everything in my apartment I laid down for 5-minutes and just thought how lucky I was to be part of a community of badass women. We were all exhausted and a little delirious but we were all delirious together. The event reminded me of the importance of community and at the end of the day, everything is worth it if its something you're passionate about and you have a talented and dedicated team alongside you. It was such an honor being part of Femme Fair and the value of the event was definitely in the intangible goodness from networking, spreading positivity and being part of an inspirational female community. Thank you for letting me be part of the Femme Fair class of 2018! I will forever remember this experience.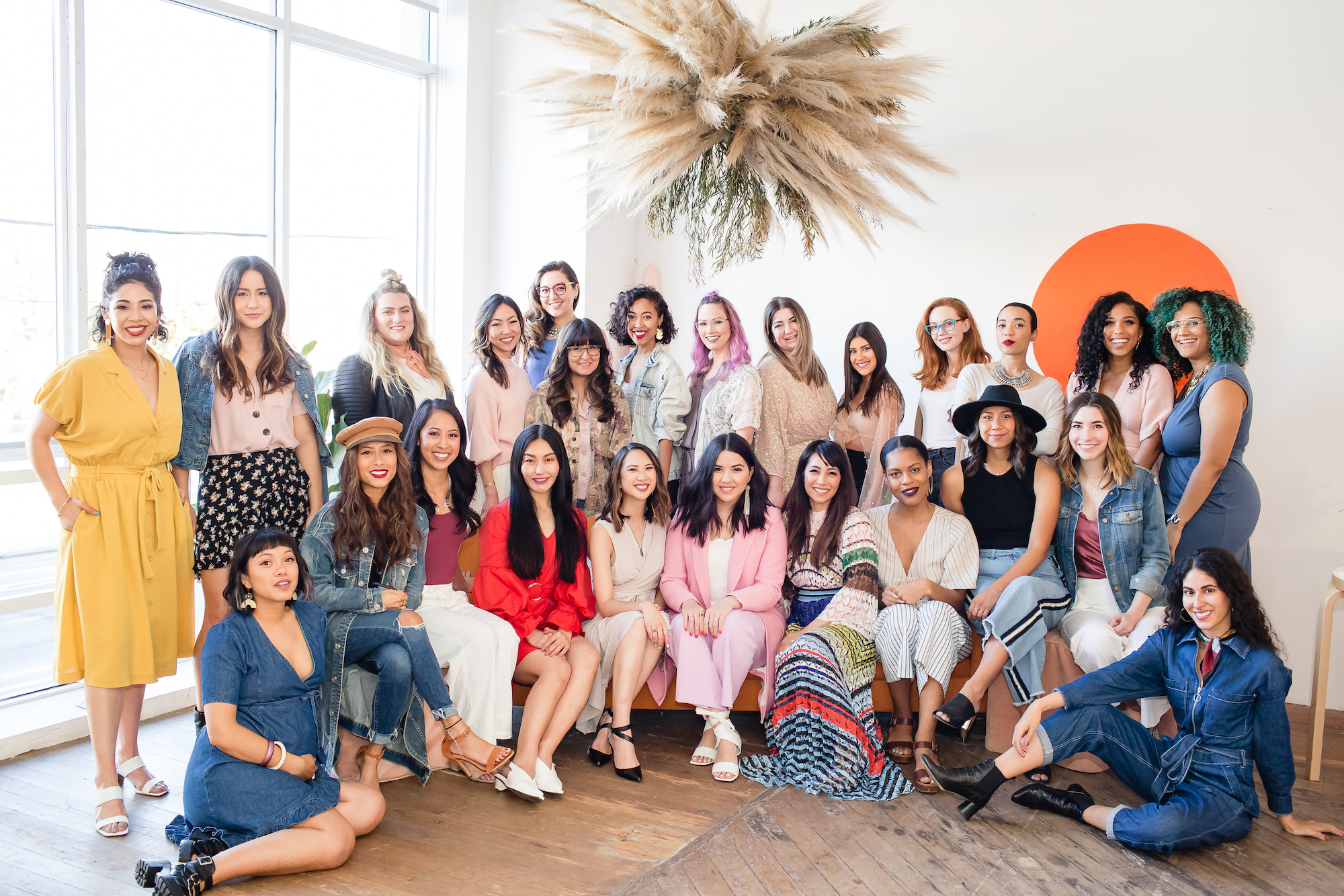 Photos taken by Jess Onesto and myself.
Event By:
Founders Stacey de León, Christina Chinn, Melissa San Vicente
Event design Claire Xue
Coordination Ashley-Victoria
Graphic design Nailah Ali
Editorial Weekend Creative
Venue rented through Peerspace
Speakers:
Arnelle Lozada, Chloe Elisa, Mandana Ansari, Melissa San Vicente and Shahida Zareef
Bloggers:
Ashleigh Reddy, Angie Hilem, Chandamheer Stacker, Chantelle Tankson, Christine Yun, Daisy Hernandez, Eden Davis, Emma Ribeira, Gabriella Seviya, Gomada Leone Thomas, Jayme Sy, Julianne Cronin, Kelsey Kaplan, Monica Cruz-Hernandez
Event Decor:
Macrame wall hangings Lise Silva
Hanging undies Pansy
Event florals Freckled Floral + Claire Xue
Booth florals Landeau
Furniture Archive Rentals + Stacey de León
Food:
Desserts The Jen Project
Girl power cookies XO Bakes
Yogurt and cheese plate Kite Hill Foods
Granola Nana Joes Granola
Fruit Snacks Bare Snacks
Coffee Lady Falcon Coffee Club
Wines Anna de Codorniu and Windsor Vineyards
Cocktails Purity Organic
Activities:
Skincare Lounge DHC Skincare
Hair, Makeup & Mani's Stylebee
Blowout Bar Dyson
Lip Bar NARS
Floral DIY Le Bouquet
Pop-up Shops:
And.Comfort
Candid Art
Dopp City Shoes
Mandana Blvd
Saje Wellness
Giveaways:
Peerspace, Bumble & Bumble, Cocokind, Dyson Supersonic, SoulCycle, Oui Shave and T3 Micro
Gift Bag Goodies:
Browology, DHC Skincare, Bare Snacks, Bite Beauty, CreativeLive, Charlotte Russe, Dyson, Greetabl, IBY Beauty, Fat and the Moon, Hush Dotti, Iris and West, Nutri-Rich Vitamins, Lilah Beauty, MGS Accessories, Miss Patisserie, Navitas Organics, OLLY, Pacifica Beauty, Passion Planners, Posh and Wild, Pressed Juicery, SmashMallow, Sunglass LA, TCHO, WinkyLux
Thanks for reading! 🙂