Traditionally baby showers are hosted by a family member or close friend, but Josh and I decided to plan our baby shower ourselves. Even though my best friends offered, I didn't want to burden them with the task, wanted it to be a joint shower for me & Josh, plus I enjoy event planning. I planned out all the details from the theme, decorations, vendors, etc, and my friends helped set-up the day of and was responsible for games. I'm soooo grateful for the friends who executed/set-up the baby shower because that ended up being the most stressful part!
We were happy with how everything turned out. My friends/family had fun, there were good vibes, and it overall a success! The only con was the weather which we couldn't control. It was unbelievably windy which made setting-up an absolute pain and decorations kept getting destroyed. San Francisco wind is no joke, but apparently the wind was brutal all over the Bay Area that day.
How to plan a baby shower:
1) Create a moodboard:
I find it easiest to pin ideas on Pinterest and look for patterns and themes based on what you pin. From there get ideas and delete photos that no longer match the aesthetic. I used Pinterest to pin a bunch of photos, and then created my own moodboard (below) of the top photos I liked and wanted to replicate. This helped me narrow down the theme, colors, and ensure everything I envisioned matched.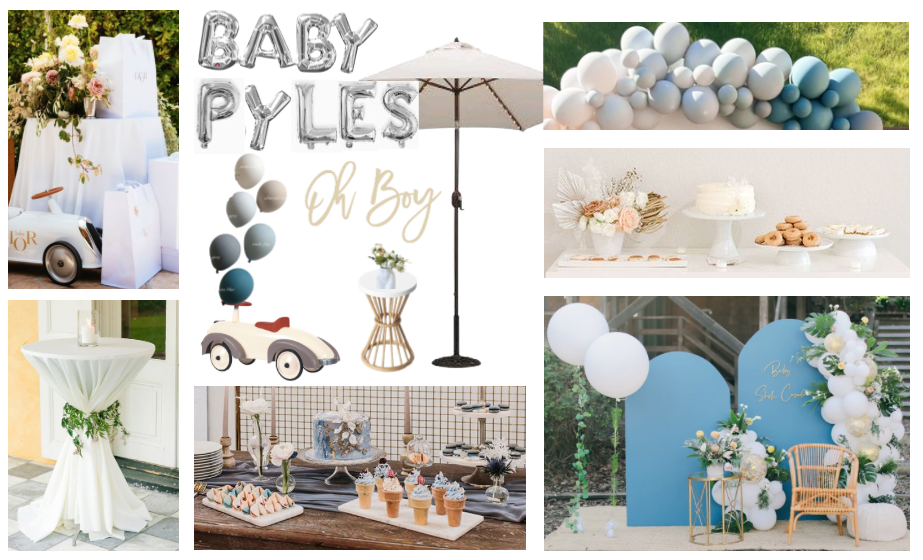 I wanted a separate photo vignette area, so mocked how that would look using the actual setting (my backyard) as the background photo. I used Google Presentation which is free to mock everything up.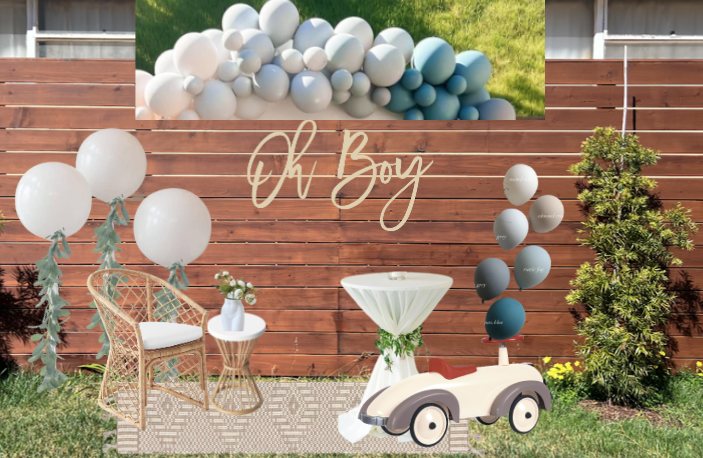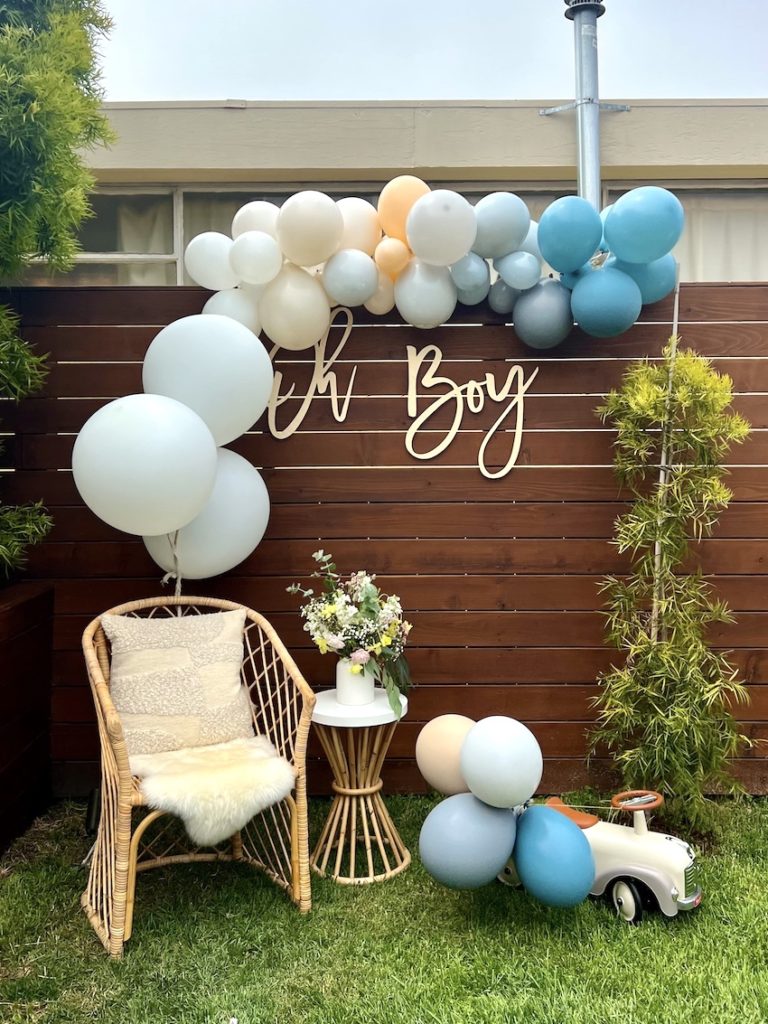 2) Create your guest list:
The number of people you invite and expect to go, will impact the space to have it at. It will also impact your budget, because the more people go… the more food/drinks/desserts you need to provide. We invited around 70-guests and 58 showed up. The turnout was pretty good!
3) Pick the venue space:
Most people have baby showers in their backyard or someone's home. We chose to throw the baby shower in our backyard which was great because we didn't spend money on a venue and had full freedom in terms of planning.
4) Set a budget and create a list of everything you need to buy/order:
From highest to lowest, below were our expenses.
$$$$ Food, Drinks & Desserts

This was half our spending. We got food catered from Nopalito in San Francisco. Outside of the cost of food there was also a 20% service charge, SF's 5% employee benefits tax, plus 9% tax. The 34% taxes on top of the food came at a surprise to us, so check if there's a service charge to consider into your budget
I ordered desserts from 3 places for a good variety. Cake was from Butter & Crumble, custom cookies were by @Josie.Bakes.SF, and all other desserts were from Pretty Please Bakeshop

$$$ Venue

Renting out a venue can be pricey depending where you have it

$$$ Decorations & Signs

All my balloons were from Etsy, AliExpress and Amazon. Link to my balloon arch
Custom signs were from Etsy. Here is the one I got in 46″ unpainted wood & shany font
Other decorations were from a mix of places but mostly Amazon and World Market

$$ Rental Equipment:

We rented tables and catering equipment from ABBEY since they had the best selection and didn't require a minimum spend. I was super happy with them and would use them again. They dropped everything off the day before the event, and picked everything up Tuesday.

$ Misc items

These are small things like paper plates, cups, napkins, and invites.
5) Send out invites
After you get the date, time, and venue locked send your invites. We sent our invites via Paperless Post 6-weeks before the event. We felt this was a reasonable time to give people a heads-up while not being too far in advance where people will forget. I also sent an event reminder the week before and the day-of, all via Paperless Post.
7) Start the planning and get things booked!
I bought things in advance to give plenty of time for shipping or re-purchasing if needed. I wanted "stations" at our baby shower spread across the backyard to take advantage of the space. There were 6 stations I planned for: photo area, desserts, drinks, food, lounging, and eating.
8) Create a day-of schedule so helpers know how to execute
This was the most stressful part of the day. I lost 2 helpers (who unfortunately got COVID) and on top of that the wind made setting-up painfully difficult. Decorations kept getting destroyed or blown away. 3 flower vases fell and shattered, balloons popped or flew off, and cocktail tables were tilting from the wind. Unfortunately you can't control the weather, so we dealt with it the best we could.
If I could go back, I would have asked for more help or ask people to come earlier to help set-up. Below is a rough schedule of how my "day-of" schedule looked like. I did a lot of preparation the day before, and right before the baby shower… which I do not recommend anyone 33-weeks pregnant to do. My body was aching and then I had to clean afterwards so I was incredible exhausted by the end of the day. BUT it was worth it haha.