When I think of animal prints, the words fierce, bold and sexy all come up. Words I love. Although leopard and cheetah print have made a huge trend in fashion this past season, DO NOT get confused. Animal prints are not just a trend, it is a STAPLE PIECE that belongs in every women's closet. All of the great woman of the past such as Marilyn Monroe and Aubrey Hepburn have worn leopard print in their time. Animal prints are not only symbolic of fashion but also woman of power. Every woman deserves to feel powerful in one way or another. So why not feel powerful and sexy by rocking that leopard print dress, jacket, pumps, lingerie or whatever it may be =).
4 WAYS TO EFFORTLESSLY WEAR LEOPARD PRINT:
1. Accessories can make the outfit: I am a HUGE fan of accessories because the way you accessorize can easily add so much character and uniqueness to an outfit. Leopard print accessories such as pumps, flats, belts, a clutch, earmuffs or a scarf can draw that attention of a confident, audacious women with style. I always recommend people to start off small if they feel they can't pull off a particular trend or style. In this case, accessories are the best way to start.
2. Black, white or leather: You can never go wrong. Because leopard print is composed of neutral colors, pairing it with other neutral colors creates an effortless and harmonious look. Leopard print also especially looks great with leather because it builds to the sexiness. Some great combinations are a leopard tank and a leather skirt, or a leopard jacket, white tee and leather pants. Seamless, timeless, effortless. Sexy, bold, and fierce.
3. NEVER double leopard: Although leopard prints derive from the actual leopard, you do not want to LOOK like the actual animal. To stay away from over-doing it, stick to 1 leopard print piece per outfit. Doing too much can make it seem like you're trying too hard. You do not want that image & I do not want that image for you.
4. Simplify the rest: Because leopard print already creates a bold statement, keep the rest minimal to avoid looking like a costume wreck. In example, never pair leopard print with neon colors, sequins, rhinestones or fringe. An easy quote to remember for this trend is, "play up the leopard piece, let everything else take a back seat"
Zara's: Cheetah print jacket, simple, black everything else. Can never go wrong.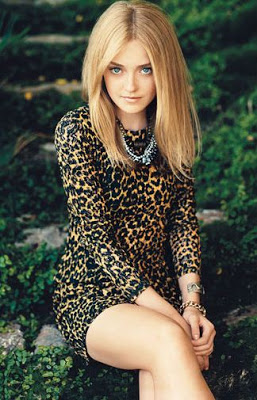 Dakota Fanning: Leopard print dress, simple hair and touch of modern glam accessories.
Sienna Miller: Leopard print skirt, basic black tank top & cardigan, classic Chanel handbag.