Josh and I traveled to Santa Barbara for our babymoon since it's drivable and a beautiful city we've always wanted to visit together. Santa Barbara is very outdoor-friendly making it safe for COVID, and full of Mediterranean-style architecture. We stayed for 2-nights and although it rained the majority of our time there, we made the most of it and can't wait to go back after the baby arrives. Below are my recommendations for where to stay and what to do in Santa Barbara based what we did.
Where we stayed in Santa Barbara:
Rated 5-stars, one of the best luxury hotels in Santa Barbara. I loved the entire vibe and style.
One annoying thing though is that the buildings aren't connected so you have to publicly walk across the street to get to the other side of the hotel. It was more annoying for us since it rained, but they have umbrellas by the entrance. There are 3 buildings, 1 has the reception/lounge area, 1 has the pool/spa, and another has conference rooms (which we never visited).
Location made it worth it. It's situated in a prime location, walking distance to the Funk Zone, Stearns Wharf, downtown, and a ton of great restaurants, bars and shopping. We basically never left the area.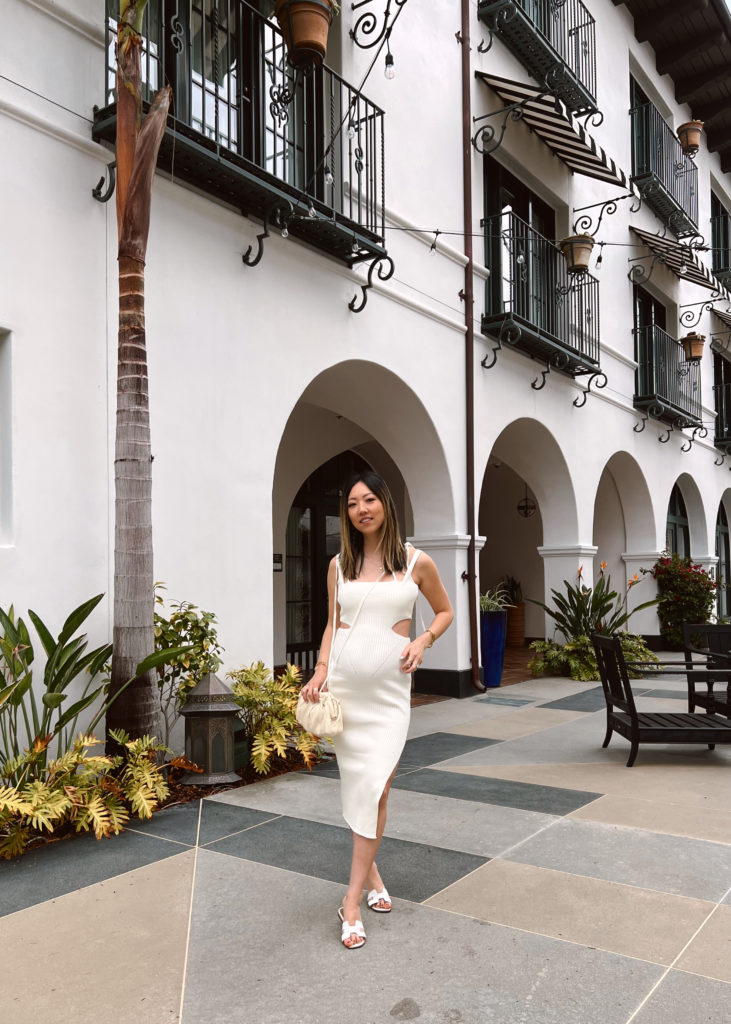 Where to eat and drink in Santa Barbara:
Things to do in Santa Barbara:
Relax at Butterfly beach: a pretty quiet and clean beach. It's called "butterfly beach" because of the shape.
Visit Lotusland: named one of the 10 best gardens in the world. Lotusland was closed the days we went, but from photos and research it looks like a whimsical garden worth checking out.
Walk down State Street in Downtown Santa Barbara. This street has tons of shopping, restaurants, and ice cream shops. I particularly liked shopping at the home decor gems like Habitat Home and Garden.
Visit Superior Court Of California County Of Santa Barbara: I was pleasantly surprised at how beautiful it was here. The Spanish Colonial Revival style architecture is gorgeous.
Explore Solvang: We stopped by Solvang on our drive back north, (it's a 45-min drive from Santa Barbara) and I'm so glad we went. This quant town made me feel like I was transported to Denmark. It was fun walking around and checking out the small stores here.
If you decide to go to Santa Barbara I hope the weather is on your side and you have an amazing time! It's such a beautiful destinations with great outdoor activities and restaurants. I can't wait to go back one day.