Photo taken at Penglipuran village bamboo forest in Bali. Wearing Topshop tube top, Levi's wedgie shorts, Zara headscarf, and Gucci belt bag.
Wondering where you should travel next? If you haven't been to Bali, I highly recommend visiting. I'll admit, I didn't really see the allure of Bali since it was such a popular tourist destination and all the photos on Instagram made it seem basic but after traveling to Bali I totally understood WHY it's such a popular travel destination. It is rich with culture, extremely affordable (you can live like royalty for the same price of traveling within the states), the service is amazing, everyone speaks English, food is good, drinks are cheap and there are so many beautiful activities and experiences to partake in. I could honestly live there and it was one of the few places I traveled to and left wishing I was still there. Ubud is a country town known as the cultural heart of Bali with traditional crafts and dance. If you're planning to go to Ubud, Bali or are curious about what to do there look no further. Here are my top 5 recommendations on must-do activities and tips in Ubud, Bali.
Top 5 activities to do around Ubud, Bali in Indonesia:
1. Hike to Tukad Cepung Waterfall. It's a short hike with lots of stairs and you'll have to walk through a river with rock pebbles but the end destination is worth it. The best part is that this waterfall is hidden and not as popular so it's less touristy. You hike through caves and end up in a waterfall deep inside the caves with a ray of sunlight beaming from the top. The whole hike took 30-minutes round trip.
Tukad Cepung Waterfall travel tips: Bring cash for the entrance fee (~15,000 rupiahs) and a small towel. It's fine to hike in sandals since you have to walk through a river but make sure they're comfortable and you don't mind getting them wet and dirty (I made the mistake of wearing my white Hermes Oran sandals). Also, wear something you don't mind getting wet in since you'll get wet from water dripping down the caves.
2. Visit Pura Kehen, a Balinese Hindu temple in Cempaga, Bangli Regency, Bali. This is the state temple of the Bangli kingdom and is surrounded by a beautiful Banyan tree over 400 years old. There are stairs to get to the entrance and the temple is filled with gorgeous stone statues. If you're lucky you might get to see traditional Balinese women cook and create canang sari's which are offerings by Balinese Hindus to thank the Sang Hyang Widhi Wasa in praise and prayer.
Pura Kehen travel tips: Don't forget to wear a sarong (it's mandatory) and tie a temple-scarf around your waist (they let you borrow a scarf after you pay the entrance fee). Do not get tricked into buying anything from the locals outside the temple (all their prices are marked up and they'll follow you around with merchandise to sell). Be prepared to walk and get hot as it's pretty humid here and there are lots of stairs.
3. Try coffee from Luwak poop 💩 at Segara Windhu Coffee Plantations. Although this sounds gross, it's really interesting seeing and getting educated on the process of making coffee from luwak poop (learn more here). It's an experience worth trying since kopi luwak coffee is extremely rare and the most expensive coffee in the world. If you're still not into the idea of drinking luwak coffee, they also offer a tasting on a variety of coffee and tea flavors. My favorite was the avocado coffee (yup, that's how you know I'm from California ;))
Segara Windhu Coffee travel tips: Pack a lunch. They have a nice outdoor patio area with a jungle view and a roof covering making it a comfortable place to eat and drink. Wear bug repellant to avoid getting bug bites when sitting in the patio. Bring cash or a credit card since it's a great place to buy souvenirs for coffee lovers and you can buy individual coffee/tea bags or coffee by the pound.
4. Visit Tegalalang Rice Terrace. The grandest rice terrace ever consisting of rice paddies involving subak, a traditional Balinese cooperative irrigation system. You don't need to spend much time here since the walk is very short and the view is gorgeous from all angles but it's definitely a site worth seeing. You know that epic Bali swing picture that everyone does and posts on Instagram too? They also have a swing here and the backdrop is epic but be willing to wait in line for it.
Tegalalang Rice Terrace travel tips:  Since this is a popular travel destination it can get crowded but the massive size of it makes it easy to capture a photo without anyone in it. Just be willing to wait for people to finish walking by to capture the perfect shot. There are also a few shopping stands outside but if you decide to shop make sure to bargain! You should bargain for half the asking price and then work your way up from there.

5. Rent bikes and cruise along rice paddies: we hired a tour guide from our resort, Mandapa to take us on a private cycling tour and followed him around Ubud and through the rice paddies. It was so much fun cruising around town, learning about rice, seeing so many happy dogs, exploring pathways and stopping wherever we liked.
Rice paddy cycling tour travel tips: Book a private tour guide like Greenbike (rated 5/5 stars on TripAdvisor) since it's easy to get lost and they'll educate you on where you are, how rice grows and etc. The other great thing about having a private tour guide is that they can be your private photographer. Don't forget to wear comfortable sneakers, sunglasses, sunblock and to bring water!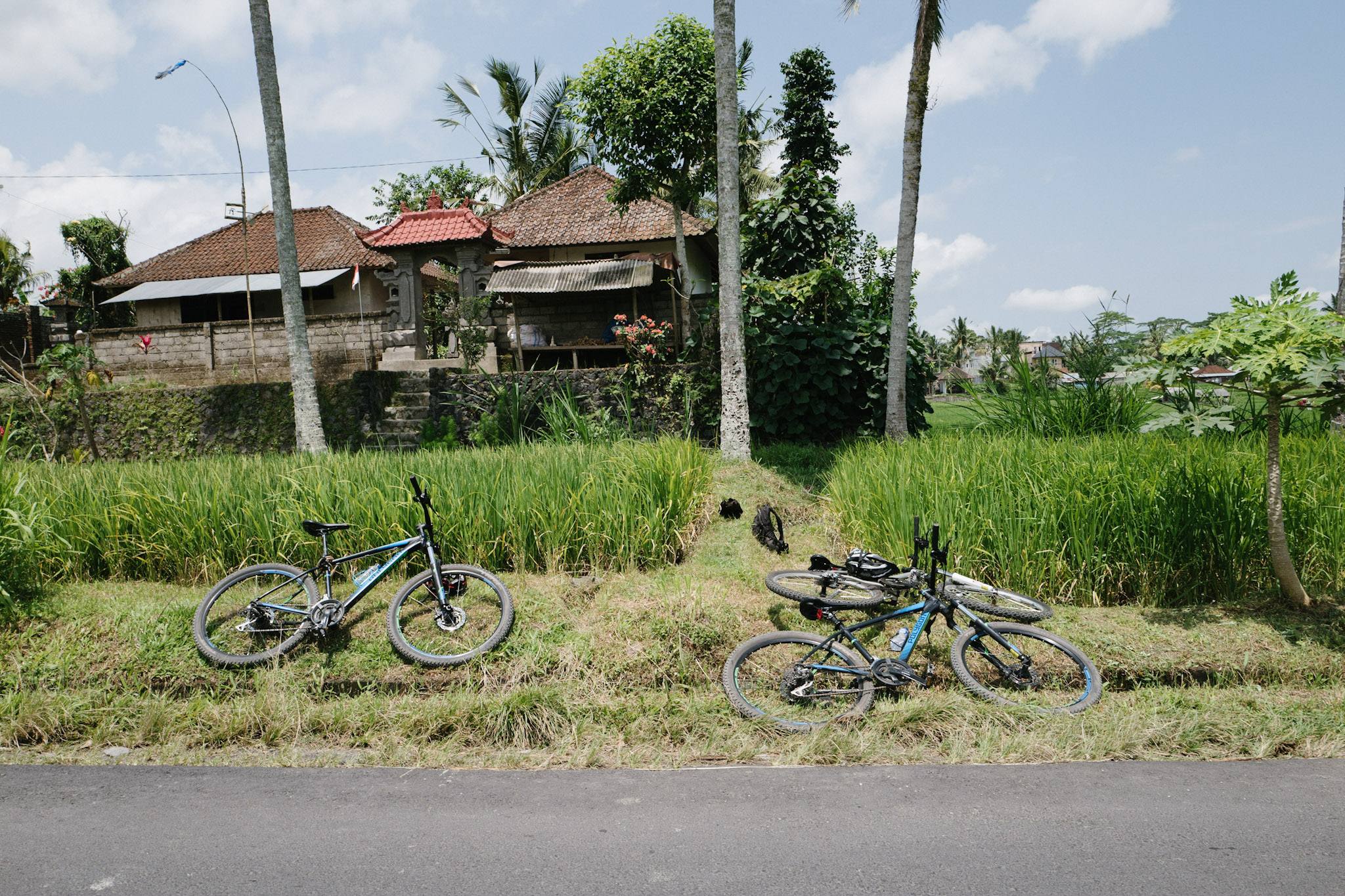 Those are my top 5 things to do in Ubud, Bali! Thanks for reading and let me know if you've done or plan to do any of these activities! I'd love to hear what you thought about each one. Up next will be my Canggu, Bali travel guide. Stay tuned and have an awesome day!