DARE TO GO CHUNKY WITH WOODEN HEELS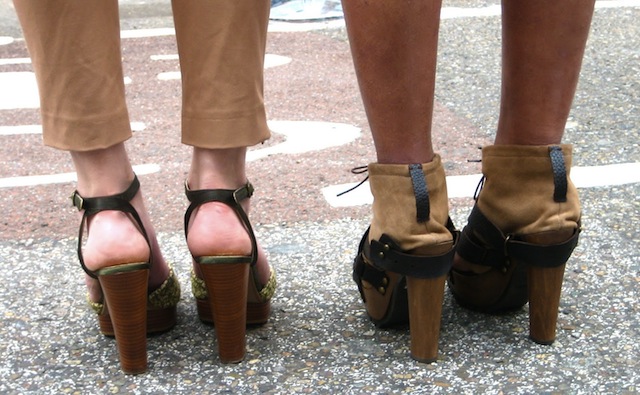 One of spring 2011's must haves is chunky wooden heels. Brands such as Steve Madden, Michael Kors, Jeffrey Campbell, Top Shop and Dolce Vita all have wooden heels in their spring 2011 collection. Wooden heels are not only more comfortable than your normal heels (
due to their thicker stature
), but also give off a spring-like appeal while simultaneously drawing casual yet bold attention to your feet. Sometimes shoes can make up the outfit, and in this case, they most definitely do.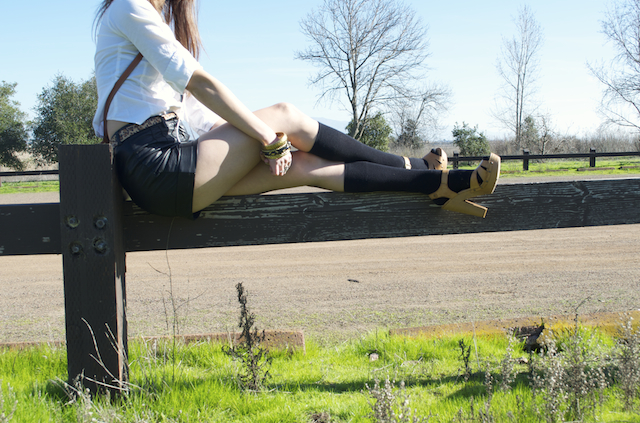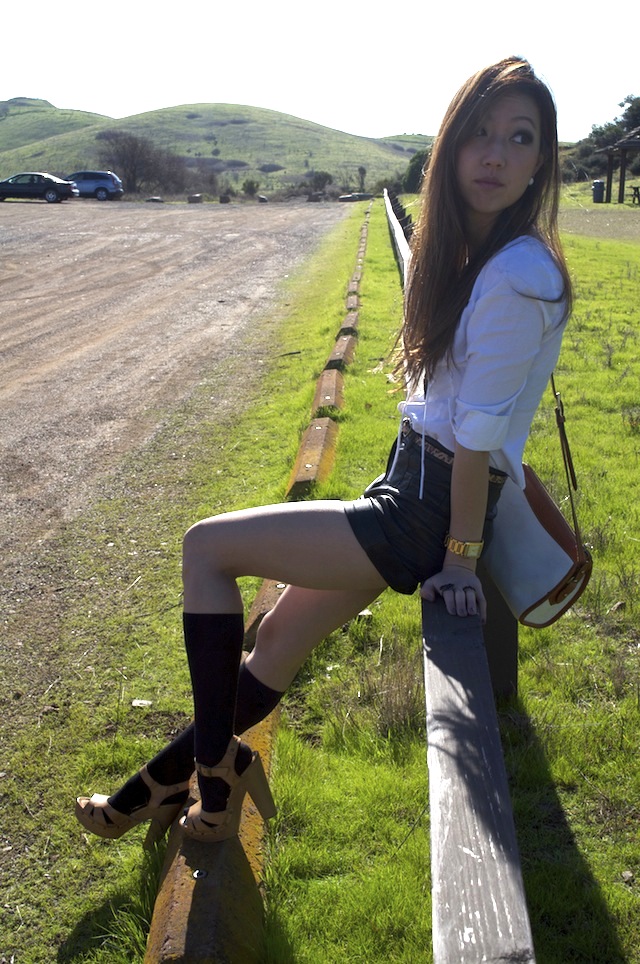 ME wearing Target wooden heels, Nordstrom Socks, Mink Pink leather shorts, American Eagle peasant blouse (from 2003), Forever 21 skinny belt and necklace, vintage Dooney & Bourke handbag.
FUN WAYS TO WEAR BOLD WOODEN HEELS:
1. Wear them with socks or nylons:
 Having a skin tone relatively close to the color of the heels, I wanted the heels to pop out, not blend in. Thus, wearing socks or nylons in a differing color from the heels can do just the trick to make your heels pop by creating contrast while adding a feminine touch to the heels.
2. Pair it with a fun, full summer skirt or maxi dress:
The fun thing about chunky heels is that the bulky heel and platform actually create the illusion of slimmer calves while elongating your legs. Pairing bold heels with voluminous bottoms such as full skirts can help capture a fun summery look while keeping it sexy with slim, long legs.
3. Pair them with some wide leg trousers
: One of my favorite ways to wear bold wooden heels is with wide flared jeans. (
flare denim are back in style! Paige carries a great selection
). Not only does it look great together, but the bulky heel along with the wide leg trousers add just the right amount of proportions together. Because flare denim creates a statement towards the feet, pairing it with bold wooden heels help compliment the flared denim while adding that boost of height to prevent the denim from touching the floor 
(because flare denim tend to be longer in height
).
For more on flared denim,
click here
!