Can you believe that it's Valentine's Day next Thursday! I feel guilty since I still don't know what I'm doing for Josh, but figured I still have a few days to craft something up. One of my favorite ways to show love for people is to make them something thoughtful and special. I've always loved making crafts and it's become a tradition for me to make something for Josh every Valentine's Day. Over the years, it's also become more challenging thinking of unique DIY gifts but I've always been able to come up with something. Gifts are very personal, as they should be, but I decided to share some of my favorite DIY gifts I made for Josh to inspire and help you with some last-minute, but thoughtful gift ideas.
P.S don't mind the poor photo quality, these are all iPhone photos that I found buried in my phone! 
Last-minute DIY gifts perfect for Valentine's Day:
Handmade mailbox filled with Polaroid photos and a custom card book: This gift is very sentimental because it was our first Valentine's Day together and one of Josh's favorite gifts from me. I bought this mini tin mailbox from Michael's (white version mailbox on Amazon Prime), decorated it and filled it with Polaroid photos that I got printed of us (I found a kiosk at a mall that printed polaroid versions of photos). I also made a mini booklet titled, "we go together like" and drew cartoon images of things that compliment each other but drew them to resemble us (so for example, a cartoon image of me as eggs and Josh as bacon). Josh got a kick out of the book and loved how thoughtful everything was. It was a sentimental and easy DIY gift and everything cost less than $30 to make!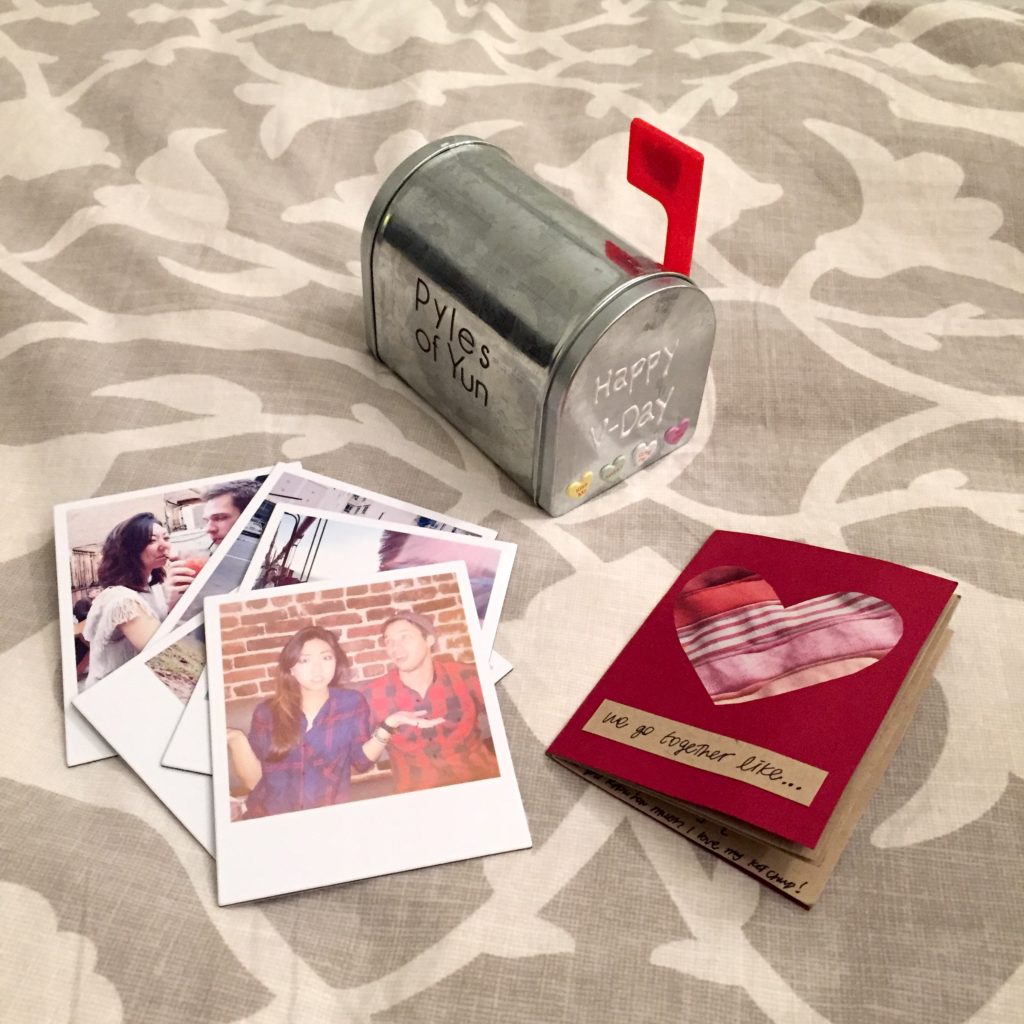 A mini getaway with a DIY card: I love gifting experiences because its something you can enjoy together and often an experience you wouldn't have purchased otherwise. Since experiences aren't tangible, it's nice to make something that resembles the experience that your partner can unwrap and have as a keepsake. I usually try to find weekend getaways that involve some type of relaxation. For this specific getaway, I gifted Josh a 2-night stay at Sagewater Spa and included a couples massage. The best part was that everything was planned so Josh didn't have to worry about anything which allowed him to really relax and enjoy his gift.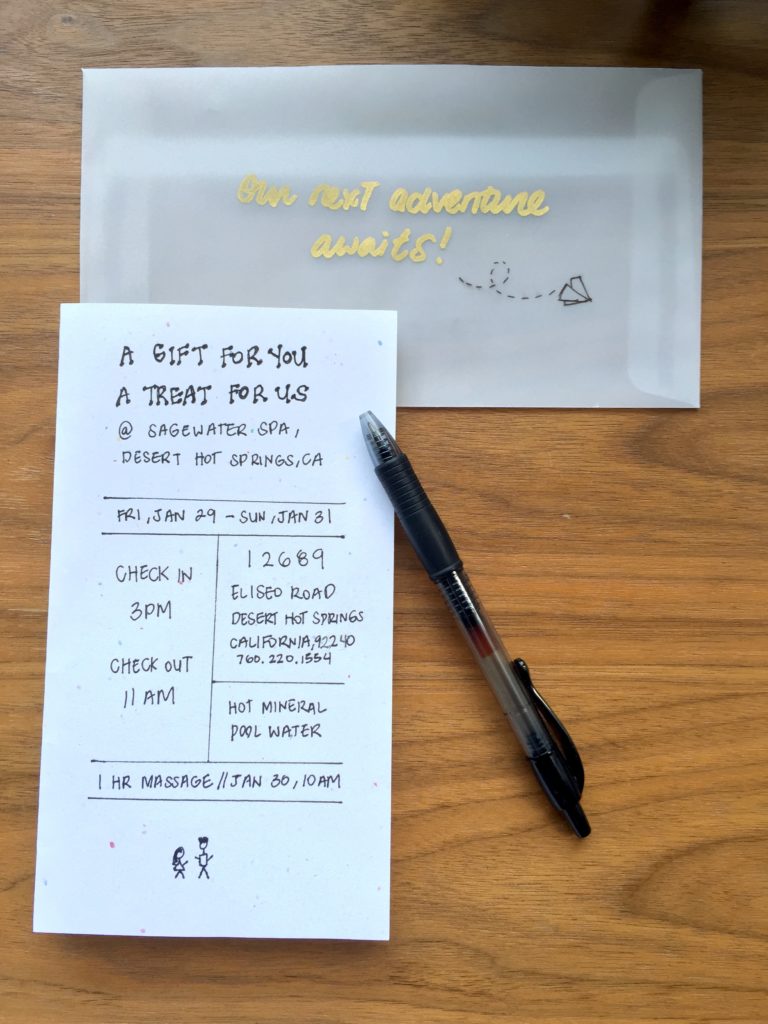 DIY Fortune Cookie with a "Choose Your Own Gift Adventure": So I'll admit, this was a VERY last-minute gift that I did one year, but one that I'm proud of because of the cleverness and creativity of it. I had a few gift ideas but essentially ran out of time to buy it. I also had a hard time deciding what to get, so decided to make a fortune cookie where Josh could pick his own gift! I surprised Josh with this handmade fortune cookie where the number Josh picked revealed the gift he'd get. It was a fun way to give a gift, in the most last-minute but meaningful way possible haha.
Photobook: This is a popular gift but one that is worth mentioning since it is a great gift and for reason. There is no better way to reflect on your relationship than with a curated photo book of your favorite moments. Valentine's Day is a great time to gift a photobook too because you can capture the entire previous year. The first time I made a photo book I knew I wanted to create one every year. Thus, I titled it, "Pyles of Yun. Vol. 1" with the intention to create a photo book series. For consistency, I always make the cover a scenic photo that resembles a high from that year. The first page always has a quote that resembles our relationship from that year. Last year the quote was, "where there is love, there is life" which is a quote by Gandhi.
I would love to hear your favorite DIY gifts that you either received or gave. Let me know if you like any of these gift ideas too! Thanks for reading. 🙂