DARE TO MIX AND MATCH PATTERNS
Model Nataliya Piro for LUSH magazine, spring 2010.
With spring just around the corner, designers are beginning to produce more patterns and prints (especially floral) in their apparel. Patterns help create a fun vibe to a simple shirt while giving more attitude and personality to any article of clothing. Yet, if you're like me and enjoy sticking out from the norm, mixing patterns is a great way to bring your own individual uniqueness of fashion to the table. Mixing patterns help intensify a look, give MORE attitude to an outfit while creating variety and diversity. The trick to mixing patterns successfully is to ensure your outfit looks cohesive regardless of the different prints and patterns you're wearing.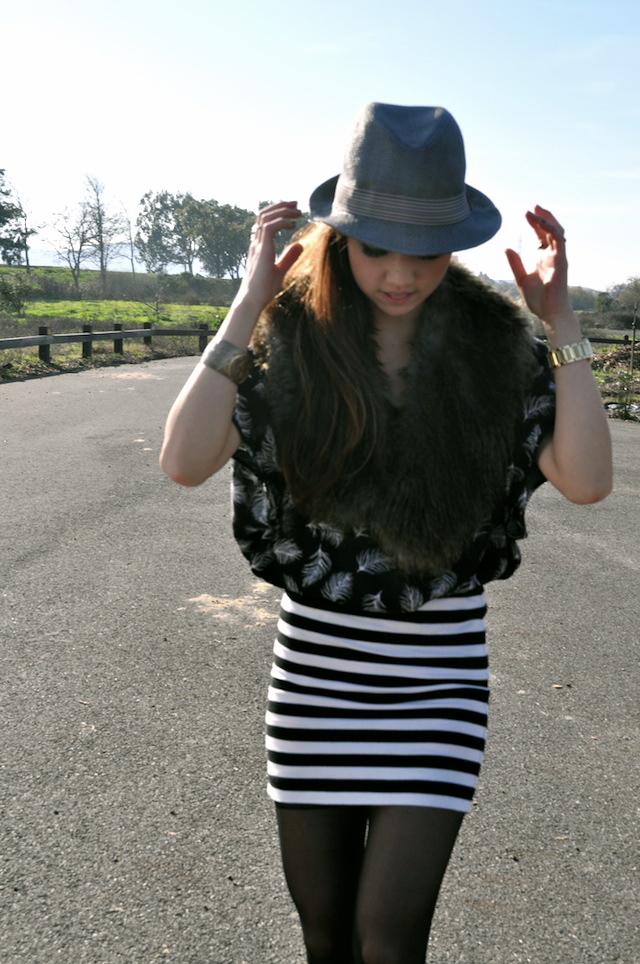 ME wearing H&M tube top worn as a skirt, H&M men's fedora, F21 blouse, vintage Liz Claiborne handbag, Bebe heels.
HOW TO MIX AND MATCH PATTERNS TOGETHER
1) Keep a consistent color theme: Your patterns should always share a similar color scheme to create a sense of unity. Always make sure that your two different patterned clothing articles are sharing at least 1 mutual color. In example, if wearing a floral print skirt with pink, white, green and blue in it, make sure your top has at least one of those colors on it.
2) Make sure your patterns aren't competing with each other: In other words, make sure your patterned article of clothing compliments each other. An easy way to do this is by having 1 stand out pattern and another pattern that's more low-key. In example, pairing a simple striped top with a busy and bold patterned skirt or a crazy patterned dress with simple patterned accessories or stockings work well.
3) Create variation in the scale of the patterns: Mixing in large patterns with small patterns help create a sense of balance. This also allows for one clothing item to subtly stick out more than another.  Wearing big prints with another big print can create an overbearing situation and create questionable views. Wearing small prints with another small print can end up looking too busy. This trick works best when wanting to wear the same type of pattern in 1 outfit.
Olivia Palermo: wearing a busy small leopard printed dress, with a medium size leopard printed belt
DIANE VON FURSTENBERG: Spg 2011, sharing similar color hues & a large printed top with small printed bottom.
RODARTE: Spring 2011, similar color hues in each outfit with complimentary patterns that are't competing.