One of my favorite places to travel to is the desert. It's beautiful, serene, and a place I find magical. After I got fully vaccinated it was a no-brainer I'd visit the one place that makes me feel so grateful to be alive.
My 2 girlfriends and I took a 6-day trip together and spent 4-days in Utah. We easily could have stayed an extra day in Utah, since there's so much to see and everything is spread apart. I underestimated how much driving it'd require to get from each destination, so we didn't make it to everything. Keep this in mind if you plan to go, and rent a comfy car!
MY UTAH TRAVEL GUIDE, OPTIMIZED FOR SIGHT-SEEING:
Day 1: Vegas & Valley of Fire State Park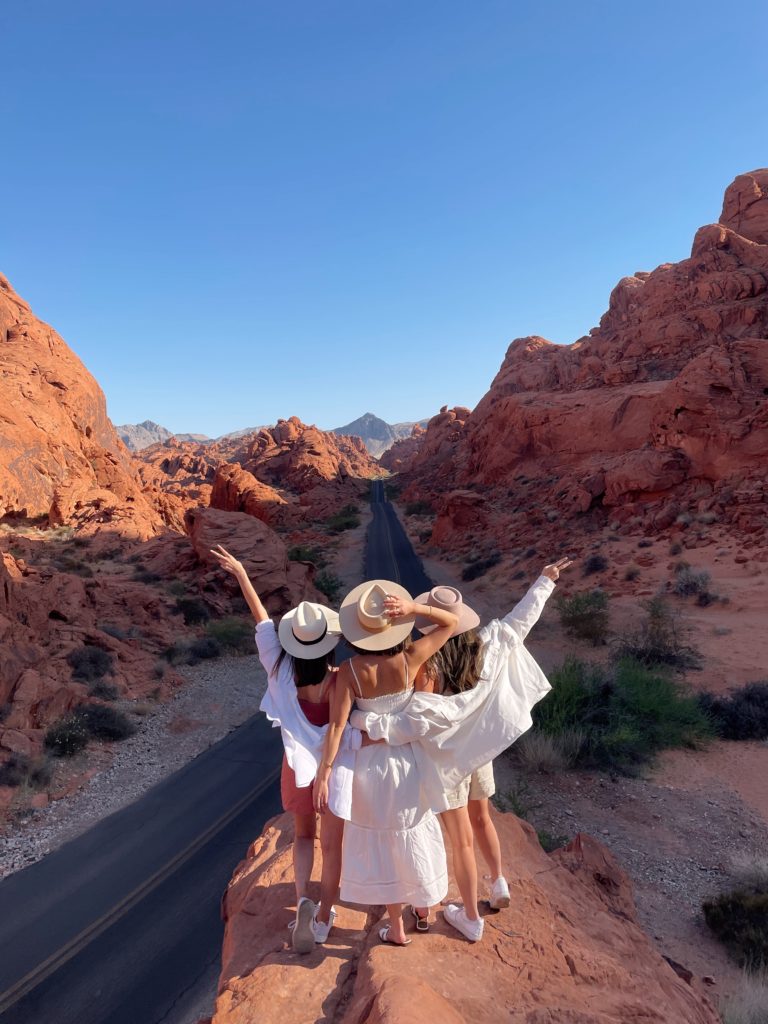 Fly into Vegas (we spent 2-nights here) and rent a car.
Drive to Valley of Fire State Park (approximately 1-hour from Vegas)

Valley of Fire was my favorite part of this trip. I loved the clean roads and how there were multiple parking lots with easy access to different beautiful sights.
Highly recommend checking out Fire Wave Trail. That's where the above photos were taken with the swirling red, white, and pink sandstone. It's beautiful.
For the epic photo on top of the rock overlooking the road, go to Mouse Tank Road. The rock is very easy to climb (I did it with sandals). Check out Jasmine Alley's blog post for more epic photo recommendations.

Check into your lodging. We stayed in Hurricane, Utah.
Day 2: Bryce Canyon & Grand Staircase Monument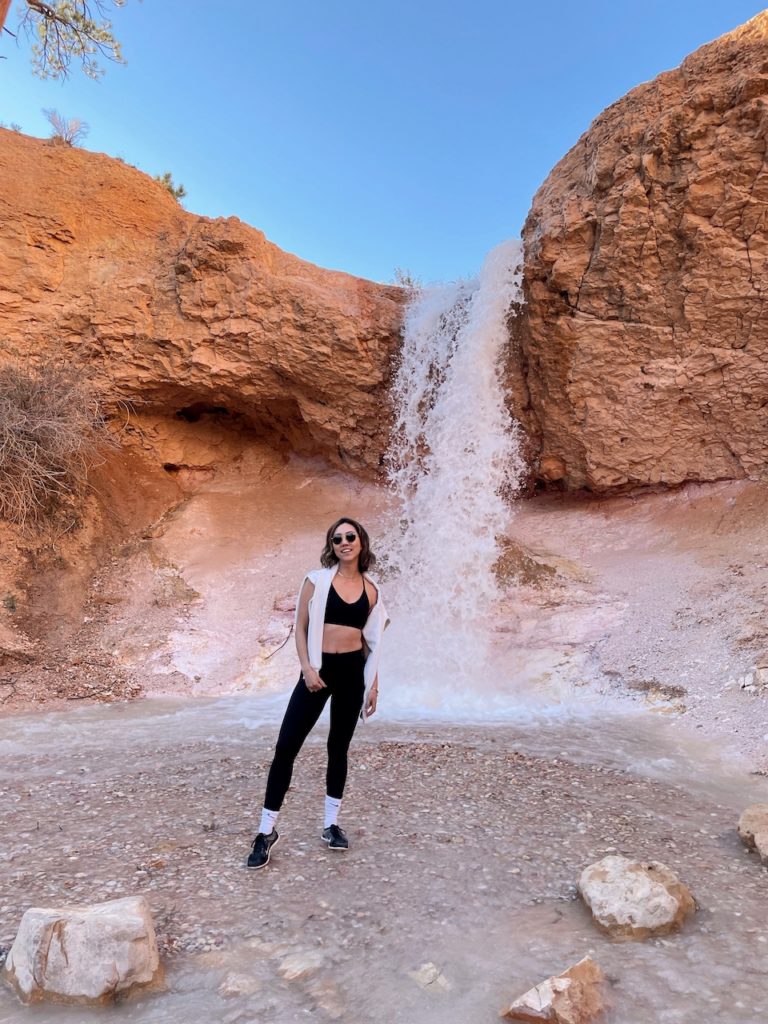 Drive to Bryce Canyon National Park.

Bryce Canyon is known for hoodoos (irregular columns of rock) since it has the largest concentration of them on Earth. A lot of Bryce Canyon looked the same to me, so it's unlikely I'll return unless I go for more intense hiking. It's great if you're into landscape photography since the views are endless.
We hiked Mossy Trail which is a very easy 1-mile round trip hike. There's a small waterfall at the end that you can stand in (see photo above).

Drive to Grand Staircase Monument

We didn't make it here, but it looks super cool so I recommend checking it out if you have time.
Day 3: Zion National Park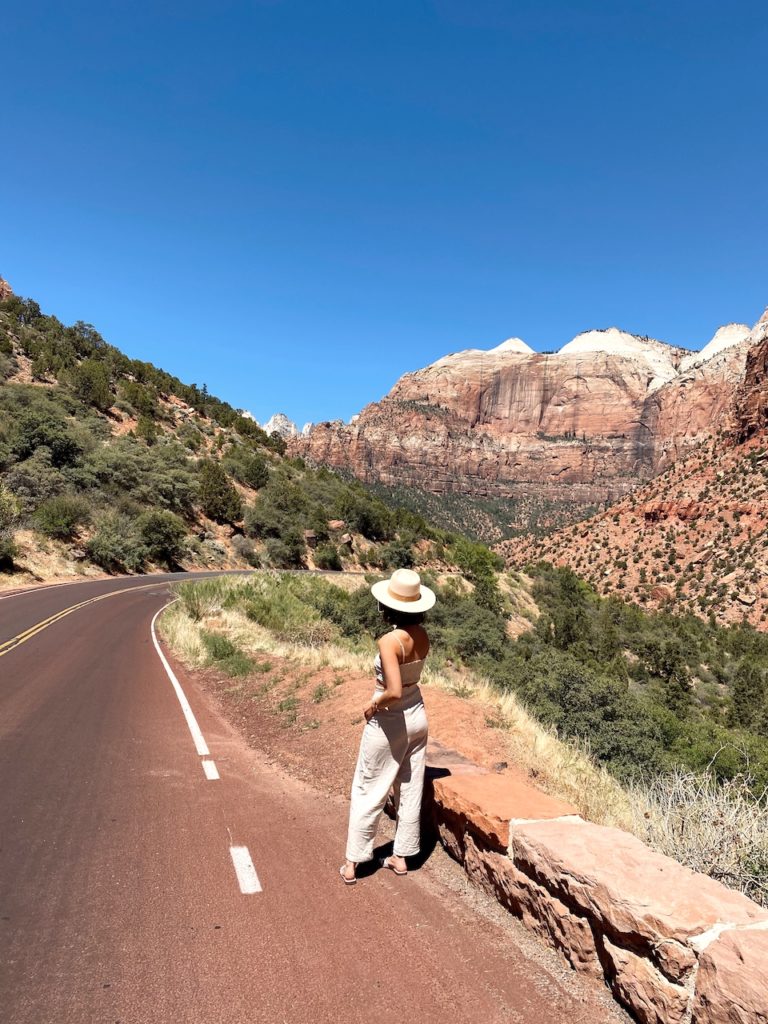 Visit Zion National Park

Buy shuttle tickets in advance since it's the only way to get to upper Zion Canyon and the Scenic Drive due to COVID-19 public health guidelines.
We went on small hikes, but the next time I go I want to do the Narrows Hike. You need a permit to hike the whole thing and it's something you should prep in advance for (in example, everyone had walking sticks). Although we were interested, we were not prepared so only hiked the beginning. Here's a good blog post on hiking Narrows Hike by Bearfoot Theory.
Day 4: Kanab & Coral Pink Sand Dunes
We drove to Coral Pink Sand Dunes after Zion, but I actually don't recommend this unless you plan to quickly stop by Zion which is what we did.
If we had the full day, we would have gone to Kanab to hike The Wave Trail then go to Coral Pink Sand Dunes for sunset shots (see how much pinker the sand is during sunset?).
When we got to Coral Pink Sand Dunes we had NO cell service, so pre-load/save everything on your phone like Google Maps beforehand.
Warning: try to leave before it gets too dark. We left when it was dark so the drive back to Hurricane was the scariest drive ever… it was pitch black without any street lights or even painted lines. My hands were sweating since I couldn't see anything past my own car lights. It wasn't until we crossed into Arizona that the painted street lines appeared and I didn't have to guess where I was driving.
Be careful and enjoy!